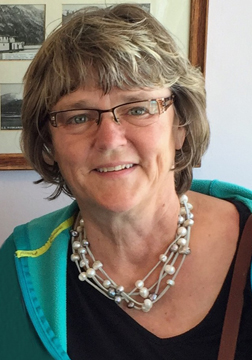 Cathy June Gilroy was born on June 4, 1958 in Gravelbourg, Saskatchewan to Albert and Georgina Pouteaux. She spent her early years in Shamrock, SK with her older sister Sherry, and younger brothers, Vern and Harold. In 1964, the family moved to Moose Jaw but continued to farm in Shamrock until 1973 when they purchased their farm outside of Briercrest, Sk. Her family continues to farm Brier Farms today. She attended school in Moose Jaw, SK and graduated from Central Collegiate in 1975. Cathy married the love her life, Steven Gilroy in July of 1976. They built a life together in Drinkwater, Saskatchewan where they made many lifelong friends and established deep roots.  
Cathy was a strong woman with many talents and skills. She worked at Raider Industries as an Office Coordinator for over 15 years when she decided to give up her career and focus all of her time and attention to their growing farm. Cathy was the central figure of her family along with being a key player on the farm. There was not a job that she could not do or do well. 
Cathy was known and admired for her kind nature, easy going personality, and optimistic outlook.  She was someone that always saw the positive in any situation. Cathy treasured her life on the farm and going to Arizona in the winter. She thoroughly enjoyed playing cards and spending time with her family and friends. Her grandchildren were paramount in her life. She looked forward to watching them play sports and going to any activities they were involved in. Holidays were very important to her. She loved hosting events and making sure celebrations were special and celebrated to the fullest. Her family will always cherish the special memories on the farm. Her presence is going to be deeply missed. 
Cathy passed unexpectedly from cancer on Oct 5, 2022 surrounded by her family. She is survived by her loving husband, Steven Gilroy, and her children, Steven Gilroy Jr (Kerri Gilroy) and Brandy Gilroy (Jeff Mazurak). She will be lovingly remembered by her 6 grandchildren; Raea, Kaitlyn and Ryder Gilroy; Alex, Ben and Connor Mazurak; and her siblings; sister, Sherry (Scott) Duncan; brothers, Vern Pouteaux; Harold (Marnie Gilroy) Pouteaux; and special Aunt, Bev Arnold; brothers-in-law Paul (Shelly) Gilroy; Robin (Wendy) Gilroy; and sister-in-law Laurie (Guy) Jacobson. She leaves behind several nieces, nephews and family members that loved her very much. 
Cathy's family grieves her loss, but are choosing to remember her in a way that honors her spirit. Steve and the family would like to invite the community to join them in a celebration of life on Wednesday, Oct 12, 2022 at 11 am at the Moose Jaw Funeral Home. You are invited to reminisce and share stories about Cathy at The Eagles Club following the funeral service. Flowers are gratefully declined. In lieu of flowers, donations can be made to the Drinkwater Community Club for those wishing to do so. Arrangements are entrusted to Moose Jaw Funeral Home, 268 Mulberry Lane.  Andrew Pratt Funeral Director 306-693-4550