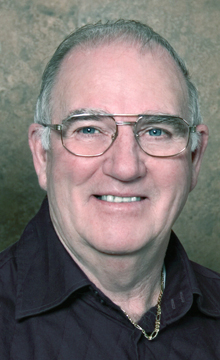 July 3rd, 1940 – April 16th, 2023
On behalf of our family, it is with great sorrow that we announce the passing of Bryan Gary Gilbert on Sunday, April 16th, 2023.  Dad passed peacefully with family at his side after a battle with cancer. 
Bryan was the first of four siblings born to Gerald and Edna Gilbert on July 3rd, 1940.  He grew up in the Camalachie District and attended Camalachie School.  He was well suited to the farm life, and farming and cattle played a role in his life for many years.  Bryan was tall, strong and athletic, and enjoyed playing baseball in and around the Camalachie District for many years.  He was an intimidating pitcher to opposing teams and his curve ball was notorious throughout the league.
Bryan met the love of his life, Sharon Coulter, and they were married in 1961.  They established their first home in Moose Jaw, SK and raised three children.
Bryan had three distinct and vastly different careers spanning almost 60 years.  He embarked on his first career by joining the City of Moose Jaw Police Department at the young age of 19.  He rose through the ranks to the level of Detective Sargent before deciding to leave the force after 16 years.  There were many significant achievements throughout his policing career but being modest as he was, they were rarely mentioned or discussed.  It was many years after Dad left the force when we discovered a letter from an FBI firearms instructor commending Dad for his shooting skills at distances up to 800 yards.  
Throughout his time on the force, farming was never far from his mind and thoughts of cattle and crops were always present.  In 1975, an opportunity presented itself to purchase a farm just south of Crestwynd, SK and so began Mom and Dad's full-time farming and ranching career.  Never an easy way of life it was rewarding in its own way.  Dad took pride in raising Simmental cattle and there were many long days and nights in the barn during calving season.  When not busy with the cattle, the farmland responsibilities were ever present.  Time off was rare but short drives to "check the crop" or "check the cows" were always enjoyable.  It was during this time that Dad renewed his interest in shooting sports and he began trap shooting for fun, camaraderie, and competition.
In 1998, Mom and Dad made the decision to sell the farm and move back to Moose Jaw.  Never one to sit idle, and after trying a few different things, Dad started his third adventure by joining ReMax Realty in Moose Jaw.  He did not consider himself a salesman but his honesty, integrity, and desire to help people allowed him to enjoy a successful real estate career that lasted 20 years. 
Dad's passion for trap shooting continued to grow and he and mom travelled many summer weekends to shooting events around the province and beyond.  These trips often included taking a grandchild with them.  He made many friends throughout his travels and competed at the Canadian Nationals several times. 
He was predeceased by his wife, Sharon; siblings, Linden and Delvina; and parents, Gerald and Edna.  Bryan is survived by his loving family: daughter, Shelley (Marcel) Presseault, granddaughter, Carmine Marchessault (Kenneth), and great-granddaughter, Isadora; son, Kevin (Bonnie), and granddaughter, Kelsi; son, Shawn (Gabrielle) and grandsons, Reese and Gabriel; sister, Patricia (Murray) Zakaluzny; sister-in-law, Jennifer (Linden) Gilbert; sister-in-law, Terry (Spencer) Barber; brother-in-law, Keith (Delvina) Brownlee; cousins, Gail (Alexia) Thoroughgood and Marlene (Don) Utley; as well as many nieces, nephews and cousins.
Dad's love of his family, strong presence and quiet manner will be missed but always remembered.  Still waters run deep. 
The family would like to express their sincere gratitude to the staff at Moose Jaw Special Care Home for their friendship, care and compassion extended to Dad during his stay there.  It is truly appreciated. 
Interment will be held on Saturday, May 6th, 2023 at 11:00 a.m. at Hillsdale Cemetery in Baildon, SK.  A Time of Fellowship will follow from 1:00 p.m. to 4:00 p.m. in the Harvey Room at Moose Jaw Funeral Home.   As an expression of sympathy, donations in Bryan's name may be made to the Canadian Cancer Society, 1910 McIntyre St, Regina, SK S4P 2R3.  Arrangements are entrusted to Moose Jaw Funeral Home, 268 Mulberry Lane.  Andrew Pratt Funeral Director 306-693-4550