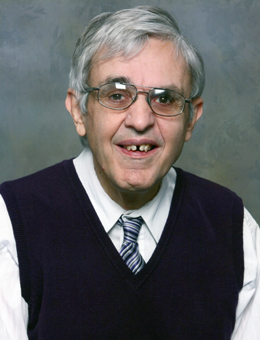 Allan Gifco, a much-loved resident at Citizens All, who will be remembered for his boundless energy, great sense of humour, and curious spirit, passed away on Monday, December 27th, 2021 at his home in Moose Jaw, SK.  He was 75.
If you knew Allan, you knew he was always on the go, and you just had to keep up.  He was a sharp dresser, and loved putting on new clothes — even if they were just 'borrowed' for the day.  Whenever he got a new shirt as a present (always a hit!), he would immediately try it on, making sure to 'tuck it in' just right.  Whether at home or at family dinners, Allan had a sweet tooth, although he really enjoyed most food, and would never say no to seconds.  He loved numbers, and particularly loved listening to music of all kinds, whether it was 'Old Satchmo' (Louis Armstrong) on the radio, or whoever he could get to sing "Texan Texan Star" to him (with actions, please!).
Allan Lynn Gifco was born on September 13th, 1946 in Cut Knife, Saskatchewan.  His dad, Tom Gifco, was a schoolteacher, and mom, Alice (Hale) Gifco, was a nurse.  Allan, the eldest of three, was followed by sister, Karen, and brother, Leslie.  In 1959, when Allan was thirteen, the family moved to Moose Jaw, where he attended the John Chisholm School.  Allan joined Citizens All on October 1st, 1975, when he moved into the Gordon Road residence.  On December 1st, 1991, he moved to the Athabasca Street residence, where he stayed and has lived for the past 30 years.
Allan was lucky enough to have two families: the one he grew up with, and the one he found at Citizens All.  He is survived by his sister, Karen (Glenn) Hagel; brother, Les Gifco; nieces, Kristin (Lawrence) Ator and Meredith Hagel; nephew, Christian Gifco; and an extended circle of family and friends.
A Celebration of Allan's Life will be held on Friday, January 14th, 2022 at 1:30 p.m. in Moose Jaw Funeral Home with Reverend Jim Tenford officiating.  The family is requesting that only those who are fully vaccinated attend and masks are mandatory.  For those unable to attend, you are invited to view the service virtually by going to www.moosejawfuneralhome.com/webcast/.  Flowers are gratefully declined.  As an expression of sympathy, donations in Allan's name may be made to Citizen's All, 410 Hochelaga St E, Moose Jaw, SK S6H 0P3.  Arrangements are entrusted to Moose Jaw Funeral Home, 268 Mulberry Lane.  James Murdock, Funeral Director 306-693-4550