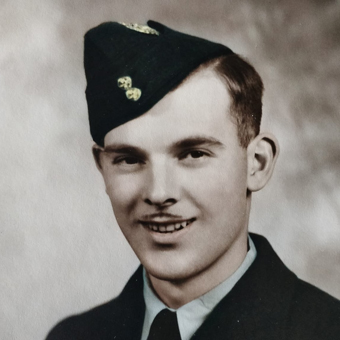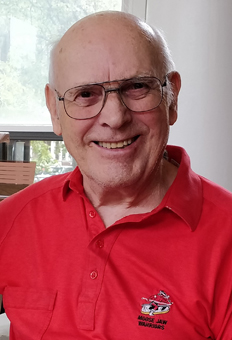 Abram (Abe/Al) Giesbrecht
We are deeply saddened to announce the passing of our dearest father, Abram (Abe/Al) Giesbrecht on Wednesday, October 27th, 2021 at Chez Nous Seniors Citizen Home in Moose Jaw, SK at the age of 92 years.
Dad was born in the village of Chortitz, SK and grew up on the family farm.  His first language was German.  He was predeceased by his loving wife, Velma Euretta (née: Annis); parents, Elizabeth and Johann P. (John) Giesbrecht; and brother, Pete Giesbrecht; and is survived by his siblings: John, Anna (Dyck), and Dave (Kay) Giesbrecht.
Dad will be greatly missed. His memories will be lovingly cherished by his two daughters Adrien (Gary) Amadeo of Vancouver and Shari (Ken) Keach of Calgary, granddaughters Shannon (Alexander) Graham, Jackie (Brandon) Ruhl, great-grandson Evan Graham, all of Calgary, dear friend and companion Emma Venables of Moose Jaw, and numerous nieces and nephews.
Wow, there is so much to say about Dad's full and active life.  He was a multi-faceted man.  We are honoured to have inherited so many of these characteristics.
We are proud to say that for 29 years our Dad served in the Canadian Air Force.  During his military career, he was stationed in Greenwood, Nova Scotia – where he met and married our mother – in Trenton, Ontario twice, Ottawa and Alliston, Ontario, Moose Jaw, Baden-Baden (West Germany), and back to Moose Jaw, home of the Snowbird Aerobatic Team.  He took mandatory retirement at the age of 50, retiring as a Master Warrant Officer.  After retirement, Dad joined the Canadian Forces Supplementary Ready Reserve (SRR), was a school bus driver for the Moose Jaw Separate School System, and small business owner of A. Giesbrecht Radio & TV Repair.
For years Dad was a very active member and volunteer at Minto United Church where he taught Bible Study, was a member of the Minto Men's Club, and member of the church choir.
Dad loved wearing costumes, as many will remember from the numerous church plays he participated in over the years.  He played a small part in an archeology dig scene in the 2000 TV movie "The Dinosaur Hunter", filmed in Moose Jaw.  Of course, Halloween was a favourite time of the year for him.
He loved music and liked to dance.  He sat by the hour enjoying our dear mother's beautiful piano playing.  Secretly, he taught himself to play the accordion.  One day he surprised us by playing one of his favourites, The Yellow Rose of Texas.  He was an amazing artist as well.
Dad took great pride in restoring his two 1928 Model A Fords. He was a real antique car enthusiast. It was not unusual to find his two daughters in the garage helping him with the restoration process.  He held numerous positions for over 35 years with the Sukanen Ship Pioneer Village & Museum in Moose Jaw.  He was also a season ticket holder and preferred member of the Moose Jaw Warriors Hockey Club, where he and our mother could be seen jumping up and down cheering for their team.
As an adventurous world traveller, Dad visited 21 countries:  Russia, China, Turkey, Greece, Czech Republic, Israel, Egypt, Jordan, Germany, Switzerland, France, Italy, England, Spain, Luxembourg, Belgium, Lichtenstein, Austria, Monaco, Holland and Mexico, where in his later years he spent many winters.  His daughters had often been his travelling companions.
He will always be remembered for his great sense of humour and his larger than life positive and outgoing personality.
Our heartfelt gratitude goes to the loving caregivers at Chez Nous who have been so compassionate and kind.  We cannot thank them enough for their wonderful care.  Leo the kitty, Chez Nous' frequent visitor, will miss Dad too.
A Private Family Service will be held.  In lieu of flowers, the family welcomes donations to Chez Nous Senior Citizens Home, 1101 Grafton Avenue, Moose Jaw, SK S6H 3S4, as an expression of sympathy.
Personal sentiments from us to you, Dad:
Adrien – Dad, I will always be your little girl. Over the years, we had so much fun travelling together. I salute you now as you fly high and soar with the angels. I love you Dad!
Gary – I will really miss 'The King of Moose Jaw'.
Shari – Thank you for being my Dad. I will miss our talks and your loving hugs, and whenever I hear or say, 'oh well', I will think of you and smile. Love you!
Ken – I will always think of you when I work on the Model 'A'.
Shannon – Thank you for always being there when I needed a hand with a creative project, I will never forget those many hours perfecting those projects together. You also taught me how to fix just about anything with objects found around the house, which has come in handy more than once! I love you and miss you so much.
Jackie – Thank you for being such a huge part of my life. I wish you could have been here to meet your newest great-grandbaby. You'll forever hold a special place in my heart.
Arrangements are entrusted to Moose Jaw Funeral Home, 268 Mulberry Lane.  James Murdock, Funeral Director 306-693-4550