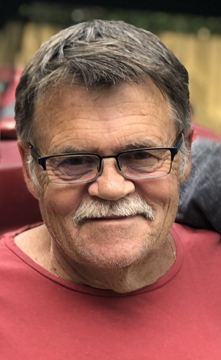 Our much beloved husband, father, papa, and brother, John Gibson passed away on Thursday, May 11th, 2023, at the age of 71 years.  He was predeceased by his parents, Jack and Mim (Garrett) Gibson.  John is survived by his wife, Deb Gibson (Hiller); daughter, Sara (Chris) and son, Kyle (Kara); grandchildren: Sirocco, Isabeau, Edison, John, and Llewyn; stepson, Mick (Kelsey); stepdaughter, Mandy (Mark); grandchildren: Eli, Macy, and Maverick; and sister, Linda Gibson.  
John was born in Moose Jaw, SK on July 12th, 1951, where he lived and spent his childhood until he moved to Prince Albert, Edmonton, and Saskatoon before returning to Moose Jaw to raise his children and ultimately stay.  John was a prominent small business owner in the city and was known for two local businesses in particular: Western Electric Motor and Challenger Graphics Trophy World.  John's pre-retirement job, which was also his favourite, was with Moose Jaw Express.  By virtue of his personality, he excelled in this role because he was able to connect with his beloved community members.  Anyone who interacted with John or visited his businesses knew that they would be treated well and with a laugh.  John was known for having terrible jokes and whether you got his humour or not, he could always make you laugh.  Another community connection that John was so proud of was watching the Warriors play.  John has been a season ticket holder for as long as anyone can remember.  
John and Deb met 20 years ago, and Deb chose him because of her mother's advice.  She advised that if a man loves his mother and you can see this in him, he will make a wonderful husband.  One month after John proposed to Deb, he was thrust into the role of caregiver when he helped Deb overcome breast cancer.  John was dependable, caring, accountable, and always present.  His reliability and kind nature made him such a strength and offered peace of mind to everyone that was around him. 
Together, Deb and John have traveled extensively with friends, enjoy Moose Jaw's social scene, and are active members at their church.  Additionally, they visit the local athletic facilities, attend Warrior and Miller Games, and are active as community and service members.
A Memorial Service will be held on Wednesday, May 17th, 2023 at 11:00 a.m. at Victory Church, 637 Main St N, Moose Jaw, SK.  A Time of Fellowship will follow immediately at Victory Church.  The family invites everyone to further celebrate John's life at the Crushed Can Rec. Room and Bar (all ages welcome), 82 Manitoba St W, Moose Jaw, SK from 2:00-4:00 p.m.  In lieu of flowers, you may honor John's memory by donating to the Heart and Stroke Foundation of Saskatchewan, Unit 26 – 1738 Quebec Ave, Saskatoon, SK S7K 1V9 or the Cancer Foundation of Saskatchewan, 200-4545 Parliament Ave, Regina, SK S4W 0G3.  Arrangements are entrusted to Moose Jaw Funeral Home, 268 Mulberry Lane.  Gary McDowell, Funeral Director 306-693-4550