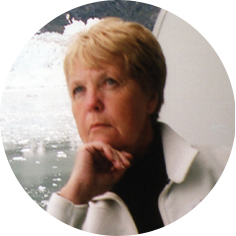 It is with great sadness that we announce the passing of Jean Grace Gaudet on Tuesday, January 19th, 2021 after a long struggle with cancer.  Jean was born April 30th, 1944 in Mossbank, SK to Guy and Ida Kerr.  She grew up on the family farm in the early years, then moved in to the town of Mazenod, SK.
She was predeceased by her parents and husband, Gary; brothers, James and Stewart; and nephews, Kyle and Raymond.  Jean is survived by her children: Stewart (Donna) Lane, Penny (Kelly) Wiens; and Kevin (Tiffany) Gaudet; grandchildren: Dean, Brandon, Jordan, and Brittany (Dillon); great-grandchildren: Raiden, Lucas, Kylie, and Madison; sisters, Ester (Dan) MacAulay and Edna (Lionel) Cossette; brother-in-law, Jim Gaudet; sisters-in-law, Irene Kerr and Irene Kerr; as well as many nieces and nephews.
The family would like to send a special thank you for the special care she received from Dr. Janzen, the Allan Blair Cancer Centre, Dr. F.H. Wigmore Regional Hospital, Pioneer Lodge, Dr Jim, and all of her other doctors and nurses.          
Jean will be laid to rest in Drayton Valley, AB next to her husband Gary at a later date.  As an expression of sympathy, donations in Jean's name may be made to the Cancer Foundation of Saskatchewan, 200-4545 Parliament Ave, Regina, SK S4W 0G3.  Arrangements are entrusted to Moose Jaw Funeral Home, 268 Mulberry Lane.  Andrew Pratt Funeral Director 306-693-4550