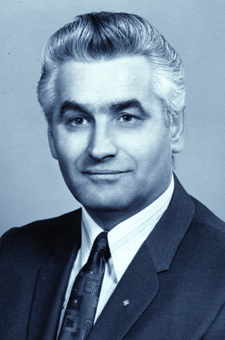 May 7th, 1927 – January 8th, 2022
Stefan "Steve" Galczyk, aged 94 years of Moose Jaw, SK passed away peacefully on Saturday, January 8TH, 2022 with his family by his side.  Steve was born in Polány Lemkivshchyna, Poland and he was the second youngest of six siblings.
On his way to Canada, Steve met his bride to be in Czechoslovakia.  From there he proceeded through Germany, then England, and lastly arrived in Canada where he met Antonia once again as he was following her.
Steve began working and living on a farm in Belbeck, SK and later moved to Moose Jaw.  He began working for British American Oil Company (BA), CP Rail, and Robin Hood.  He then returned to CP Rail after marrying Antonia on July 19th, 1952.  Together they built several homes and started a family of three children.  Steve's dream of being his own boss was fulfilled in 1960 when he started driving the VVC bus for Valley View Centre. 
Steve's passions involved playing chess with other enthusiasts, gardening, fishing, playing cards and having coffee with his friends, camping and picnics with his family.  He was an active member of St. Vladimir's Ukrainian Orthodox Church.  Steve retired after 29 years of service in 1989.  During retirement he enjoyed spending time with his wife, children and grandchildren, to whom he was known as Dido.  
He was predeceased by his parents; six siblings; wife of 48 years, Antonia Galczyk; sons, Taras Galczyk and Bohdan Galczyk; and grandson, Julian Galczyk.  Steve leaves to mourn: his daughter, Oksana Peakman and son-in-law Tim Peakman of Moose Jaw; granddaughters, Ashlie Peakman (Mike) of Kelowna, BC and Trisha Peakman of Leduc County, AB; daughter-in-law, Irena Galczyk of Saskatoon, SK; family member, Charles Peakman of Boharm, SK; as well as many special old and new friends.
The family would like to give thanks to Dr. Vermaak, the staff at Extendicare, and the care and compassion received by the staff at the Dr. F.H. Wigmore Regional Hospital.  As well a special thank you to Dr. Pilon.  Your kind sentiments and words were appreciated by Dido and the family.  It deeply filled his heart.
The Funeral Service will be held on Thursday, January 13th, 2022 at 1:30 p.m. in Moose Jaw Funeral Home.  Reverend Volodymyr Feskiv will officiate and interment will take place at Rosedale Cemetery.  Those not able to attend are invited to view the service virtually by going to www.moosejawfuneralhome.com/webcast/. Arrangements are entrusted to Moose Jaw Funeral Home, 268 Mulberry Lane.  Todd Sjoberg, Funeral Director 306-693-4550