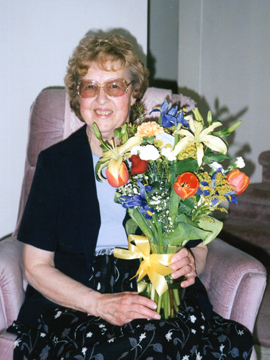 Beatrice Ruth (Liebreich) Gadd
Beatrice Ruth (Liebreich) Gadd passed away peacefully in her sleep on the 27th of December 2022 at Extendicare Moose Jaw. 
Born March 31st, 1929, to Olga and Adolph Liebreich, Bea grew up on the family homestead in the Whitesand District with her 6 older brothers: Ralph (deceased), Edmund (deceased), Herbert (deceased), Ervin (deceased), Mervin (deceased), Norman (deceased), and younger sister Violet McLachlan (deceased). She had a particular talent with the horses and rounding up any cattle that strayed too far from the pasture. She left the family home after high school to attain her teacher's certificate at Normal School in Moose Jaw and began teaching at a small schoolhouse in Southern Saskatchewan.
Bea married Ernest John (EJ) Gadd in 1951 and moved to the Tilney District where they started their family farm. They had three children together Yvonne Marshall, Carrol Henderson, and Garry (Tami) Gadd. Bea loved her children and was blessed with nine grandchildren Yvonne's daughter Revee Marshall; Carrol's children Carrie (Brent) Johnson, Tracy Henderson, Kelly (Clarke) Watkiss, and Isiah Henderson; Garry's children Brian (Quijuana) and Eric, and Brooke and Tyler who were tragically taken in 1986. Bea's greatest joy in life was the time she got to spend with her grandchildren, and great grandchildren on the farm, her house in Moose Jaw, taking them to camp meeting, the lake or working in the garden. 
Beatrice had a deep love and faith in her Lord as a Seventh Day Adventist and was very active in her church as a church pianist and organist, helping with vacation bible school, sabbath school, and many other church programs over the years. She continued her love of education through mission trips to Africa, and Mexico, helping to build a school, plant an orange grove and teaching vocational skills like sewing, reading, and writing. Bea was a gracious host and was always so delighted when her cousins, nieces or nephews came to visit or call on the phone. She enjoyed spending time outside working in her gardens, growing gorgeous flowers and vegetables to share with family, friends, and neighbors.  
A Celebration of Bea's life with be held on Friday, January 6th, 2023, at 2:00pm at the Seventh Day Adventist Church, 409 Oxford St W, Moose Jaw SK. Thank you to the kind and compassionate staff at Extendicare Moose Jaw who made sure Beatrice was well cared for while she was there. In lieu of flowers donations can be made to Adventist Development and Relief Agency (ADRA). Arrangements are entrusted to Moose Jaw Funeral Home, 268 Mulberry Lane. Gary McDowell, Funeral Director 306-693-4550