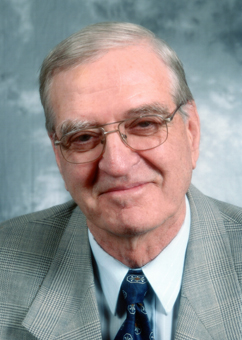 With his family by his side, Alfred Paul Funke was called home to the Father's house on Wednesday, September 22nd, 2021.  Alfred joined his wife Angela (2016), with whom he spent his earthly life for over 62 years.  Alfred will be greatly missed by his children: Cheryl (Dennis) Ludwar, Greg (Helga), Sandra (Michael) Morris,  and Donald (Tammy); 15 grandchildren; 11 great-grandchildren; 1 great-great- grandchild; brother, Arnold (Marie); sister, Jeanette (Robert) Furber; as well as sisters-in law, brothers-in law, many nieces and nephews, and many lifelong friends.
Alfred was born on the farm near Claybank, SK on November 19th, 1929 to Paul and Malvina Funke.  It was here that he developed his lifelong passions of farming, family, and faith.  At a young age Alfred and his 8 siblings were given many farming tasks.  During the 1930's these tasks were always labour intensive.  This however did not deter Alfred. 
Alfred never liked going to school, mostly because they were unaware that he needed glasses, therefore book learning was difficult for him.  He made up his mind early on that farming was his calling.  He left school at a young age and worked for many farmers in the area (increasing his knowledge of farming).  These farmers all had such high praise for Alfred.  Alfred then worked at the Claybank Brick Plant while he saved money to buy some land.  He told us the story that at the age of 25, his mother said it was time for him to leave home, so after the harvest was finished he was sent into Moose Jaw to find a job and a wife.  He was immediately successful at finding a job at the Robin Hood Mills as his brother-in-law John had a brother (Frank) that worked there.  One day, Frank invited Alfred over for a home-cooked meal with his wife June and their children.  June's sister Angel was staying with them at the time and the rest as they say, is history.  
Alfred and Angel were married November 10th, 1954 and moved out to the Avonlea area where they farmed, and Alfred worked at the Brick Plant again.
After several moves within the area, they purchased a quarter of land from his parents and started their farming and family together.  This was a daunting task, to build a farm site from scratch, but they never wavered.  Farming always included grain, cattle, pigs, chickens, turkeys and of course a huge garden.
In 1974 they bought a house in Moose Jaw so that Angel could pursue other interests and Alfred continued to farm fulltime.  They also owned and managed a 24-suite apartment building for 16 years.  Although they spent lots of time working, they also enjoyed plenty of time with their many friends and extended family.  We have countless wonderful memories of these visits and outings. 
After they sold the building, it was then that they began to travel, and Alfred took up crafting homemade wine.  He became quite the wine connoisseur, especially with red wine and cherry wine.  Alfred's love of farming continued and therefore retired only at the age of 80.
In 2013, Angel was diagnosed with severe osteoporosis and became completely dependent on Alfred.  In true Alfred style, he took on this task with such commitment and grace.  It is at this time that they moved into the Caleb Village and sold the house.  Alfred often spoke about how close he and Angel grew during this time.  After Angel left this earth, Alfred could not wait to join her in Heaven.  Alfred moved into the Extendicare in June 2021 and received such wonderful care, including from his daughter, Cheryl.  He would often tell the others how lucky he was to have her as a daughter. 
Alfred was grateful for all his children and grandchildren, and made sure that they knew that.  He will always be remembered as a man of faith, high integrity, kindness, respect for others, story-telling (he could rattle off names and dates like no one else), and most of all his sense of humour.  There is hardly a memory that involves Alfred that does not involve humour.
A special thanks to the staff at the Calab and Extendicare for the care and friendship that they showed Alfred these last few years.
The Funeral Mass will be celebrated on Tuesday, September 28th, 2021 at 11:00 a.m. in Church of Our Lady, 566 Vaughan St, Moose Jaw, SK.  Father Nestor Gregoire, celebrant, Father Jake Ibay and Father Carlos Jimenez SVC con-celebrants.  Those unable to attend may view the service virtually by going to https://youtu.be/IiK2xOgb7eo.  Interment will take place in Claybank Cemetery at 2:00 p.m.  A Prayer Service will be held on Monday, September 27th, 2021 at 7:00 p.m. in Church of Our Lady.  In lieu of flowers, donations in Alfred's name may be made to Church of Our Lady.  Arrangements are entrusted to Moose Jaw Funeral Home, 268 Mulberry Lane.  James Murdock, Funeral Director 306-693-4550