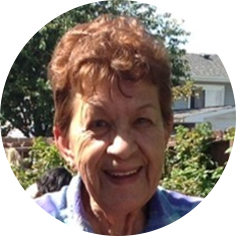 Diane Helen Fryklund (née: Anklovitch), aged 77 years of Herbert, SK passed away on Wednesday, November 7th, 2018.  Diane was born the eldest of 7 children in June of 1941 in Nipawin, SK.  She grew up in The Pas Trail area and graduated
from Nipawin High School.  Diane married the love of her life, Gary.  They started their lives together in Moose Jaw, moved to Calgary in 1968 and retired to Herbert in 2006.  Her greatest joy was that their only son, Rory grew to love and serve Jehovah. Diane was an avid gardener, talented seamstress, amazing cook, and beloved mother, grandmother and wife.  She
first became associated with Jehovah's Witnesses in the 1960's, for the last 12 years with the Swift Current congregation.  Diane firmly believed in the resurrection hope as recorded in the Bible and we all look forward to seeing her again, happy and healthy (Revelation 21: 3,4).  She was predeceased by her siblings: Genevieve, Gary, and Barry; brother-in-law, Jim; mother, Wanda (née: Novogrodski); and father, Alex. Diane is survived by her loving husband, Gary; son, Rory (Dawn); grandchildren: Kyle (Leanne) – Keyanna, Cory (Pam) – Owen, Keaton (Storm) – Chloe, and Chase; siblings: Carol Cooper, Ken Anklovitch, and Sandra (Guy) Kemph; sister-in-law, Lex Anklovitch; as well as numerous nieces, nephews, family and friends.  The Funeral Service will be held on Saturday, November 17th, 2018 at 2:00 p.m. in the Kingdom Hall of Jehovah's Witnesses, 545 North Service Rd W, Swift Current, SK.  Arrangements are entrusted to Moose Jaw Funeral Home, 268 Mulberry Lane.  Michelle Surtees Funeral Director 306-693-4550.