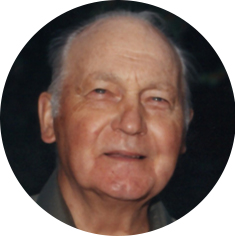 Gerald Clayton Frostad went to be with his Lord on Sunday, August 9th, 2020 at West Park Crossing in Moose Jaw, SK.
Gerald was born June 16th, 1927 in Kincaid, SK.  He earned his journeyman's papers in autobody and committed himself to overseeing the family business, Frostad's Garage, in Kincaid.  He married his beloved wife of 67 years, Daisy Velma Jeffery, on June 26th, 1952.  They made their home in Kincaid where they raised their eight children.  In 2007 Gerald and Daisy moved and spent their retirement years in Caronport, SK.  Gerald's final months were spent at West Park Crossing in Moose Jaw, SK
Gerald was predeceased by his wife, Daisy Frostad; parents, Carl and Lois Frostad; sister, Marjorie Lehmann; sister-in-law, Mary Frostad; brother-in-law, Roger Fixsen; as well as his great-granddaughter Becca Frostad.
Gerald is survived by eight children and their spouses: David (Adeline) Frostad, Carl Frostad (Cecile Corbiere), Claire (Esther) Frostad, Nata (David) Kline, Rhys Frostad, Veleta (Delmar) Klassen, Gary (Pearl) Frostad and Jeffery (Sandra) Frostad; 17 grandchildren, 5 step-grandchildren, 33 great-grandchildren and 15 step-great-grandchildren.  He is also survived by one brother, Dr. Lloyd Frostad; two sisters, June (Harvey) Sawatzky and Ellen Fixsen; and brother-in-law, Wes Lehmann; as well as many nieces and nephews.  
Gerald will be remembered for his strong faith and steadfast trust in his Lord.  This defined who he was and what was important to him.  Gerald and Daisy faithfully attended the Woodrow Gospel Chapel and later enjoyed the fellowship at Caronport Community Church.  They served together as Gideons for 50 years.  Gerald will also be remembered for his positive outlook on life and his enthusiastic participation in both sports and musical endeavors.  In his earlier years, he excelled in curling, hockey and baseball.  Later he excelled at bowling and was a horseshoe champion.  He sang in a variety of groups…the Woodrow men's quartet (which became the Gideon quartet), the Swift Current barbershop choir, and most recently the Caronport Community Church choir.  His large vegetable gardens brought him much joy each summer until he was 91 years old, and he loved to share the produce.  Finally, Gerald will be remembered for his generosity and kindness as he provided the farming community around Kincaid with equipment, parts, autobody, repairs and gasoline.
The family extends their heartfelt thanks to Dr. Bell and the caregivers at West Park Crossing for their compassionate care of Gerald in his final months.
Due to COVID-19 restrictions, a Private Family Funeral Service will be held on Saturday, August 15th, 2020 at 10:00 a.m. in Moose Jaw Funeral Home.  The service will be live streamed and can be viewed at https://www.moosejawfuneralhome.com/webcast/.
Donations in memory of Gerald Frostad will be graciously accepted by The Gideons and will be used to fund the distribution of Bibles.  Arrangements are entrusted to Moose Jaw Funeral Home, 268 Mulberry Lane.  Michelle Ellis, Funeral Director 306-693-4550