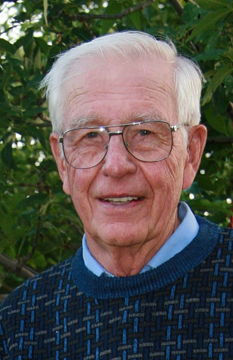 Lenard Julius From of Caronport, SK, peacefully entered the presence of his Saviour on Wednesday, February 15th, 2023, at the age of ninety-three years.  He was predeceased by his parents, Joseph and Esther; infant daughter, Carolyn; brother, Leslie; and sister, Joyce.  Len is survived by his wife of sixty-three years, Millie; three siblings: John, David, and Mary; children: Joel (Beckie), Barbara (Jonathan), Wesley (Pamela), and Derek (Melissa); as well as eleven grandchildren and eleven great-grandchildren.
Len was born on November 27th, 1929, at Spy Hill, SK, the eldest of six children.  At the age of twenty-four, he gave his heart to the Lord Jesus.  It was the most pivotal event of his life; he became a wholehearted follower of Jesus Christ.
The next four years were spent at Briercrest Bible Institute.  He then went on for further education at Columbia Bible College in South Carolina, where he met Mildred Deremer.  They were married on June 13th, 1959, in New Jersey.  Len and Millie moved to Canada and soon accepted a call to pastor in Peirson, Manitoba.
In August 1962, the family moved to Caronport, where Len served as High School Boys' Dean and later as Maintenance Foreman.  He loved the Lord, the Word of God, and his family.  He was an avid hunter, and was happiest gardening, tinkering, and photographing nature.  Len and Millie lived at Caronport for nearly sixty years, until they moved into a retirement home in Moose Jaw, SK in April 2022.  
A Celebration of Len's Life will be held on Sunday, February 19th, 2023 at 2:00 p.m. in the Edwards Chapel in Caronport, SK.  In lieu of flowers, donations in Len's name may be made to Joe's Place Youth Centre, 402 Main St N, Moose Jaw, SK S6H 3K2.  Arrangements are entrusted to Moose Jaw Funeral Home, 268 Mulberry Lane.  Gary McDowell, Funeral Director 306-693-4550