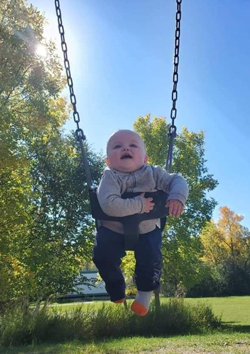 MINKAH CAMERON KENNETH FREY-ANGUS
"and she loved a little boy very, very much
– more than she loved herself"

Though the loss of a child always causes the light of the world to become a bit dimmer, God calls us home when the time is right. We are all brought to Earth with a purpose, a destiny to change the lives of those around us. Some of us fulfill our destiny a little faster than others and thus are blessed to be called Home a little sooner.

Children are sources of light, laughter and pure enjoyment. Anyone whose life has been graced with the privilege to know and love a child will confirm what a life altering gift it is.

In the early morning hours on Thursday, March 31st, 2022, cradled in his mother's arms, God called Minkah home to Heaven.

Minkah was born on September 3rd, 2020 in Moose Jaw, SK to parents Taylor Frey and Trevor Angus.  During his short time on this Earth Minkah showered us with endless love, laughter and great joy.  Minkah's days started with watching his favorite shows, COCOMELON and Paw Patrol.  He especially loved Marshall and J.J.  "The Wheels on the Bus" and "Twinkle Twinkle Little Star" were his favorite songs and he would dance around to them every day and go through the motions of the songs.  He loved looking at books, riding his little quad, helping his mom vacuum, playing with his toys, going for car rides, walks, swinging, and playing with his sister Brooklyn.

Minkah will forever be loved and cherished by his parents, Taylor Frey and Trevor Angus; sister, Brooklyn; grandparents: Lee and Sandra Frey, Evelyn Deschambeault, and Kirk Angus (Michelle King); aunt, Cara Brydges (Ryan); uncle, Ryan Angus; cousins: Brynn, Sienna, Thomas and Cooper; great-great-grandparents, Ray and Kay Frey; great-great-grandma, Sadie Prokopchuk; as well as many great-aunts and uncles, and cousins.

Embracing him with Love in Heaven are great-grandfather, Steve Prokopchuk; great-grandparents, Ken and Doreen Angus; aunt, Caitlyn Frey; great-uncle, Adam Prokopchuk; great-great-uncle, Jerome Frey; great-great-uncle and aunt, Jerry and Madalyn Zimmer; as well as family and friends who have gone before us. 
The Funeral Service will be held on Saturday, April 9th, 2022 at 11:00 a.m. in Moose Jaw Funeral Home.  Father George Thattuparampil will officiate and interment will take place at Sunset Cemetery.  Those not able to attend may view the service virtually by going to www.moosejawfuneralhome.com/webcast/. Memorial donations in Minkah's name may be made to The Garden of Peace – Sunset Cemetery, 633 Caribou St W, Moose Jaw, SK S6H 2K5.  
I will see you again,
This is not where it ends
I will carry you with me
~Till I see you again

In a place far away
Where the water meets the sky
The thought of it makes me smile
You are my tomorrow
Twinkle, twinkle, little star
How I wonder what you are
Up above the world so high
Like a diamond in the sky
Twinkle, twinkle, little star
How I wonder what you are
Twinkle, twinkle, little star
How I wonder what you are
Up above the world so high
Like a diamond in the sky
Twinkle, twinkle, little star
How I wonder what you are
Twinkle, twinkle, little star
How I wonder what you are
Up above the world so high
Like a diamond in the sky
Twinkle, twinkle, little star
How I wonder what you are
Twinkle, twinkle, little star
How I wonder what you are
Up above the world so high
Like a diamond in the sky
Twinkle, twinkle, little star
How I wonder what you are
Arrangements are entrusted to Moose Jaw Funeral Home, 268 Mulberry Lane.  Michelle Ellis, Funeral Director 306-693-4550