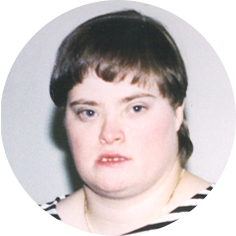 It is with deep sadness that we announce the passing of our daughter, sister and friend, Lana Frankow, on Thursday, November 29th, 2018.  Lana was born in January 1964 to Ed and Elaine Frankow.  She received her education at Centennial Park School in North Battleford, SK and later at John Chisholm School in Moose Jaw, SK.  Lana spent the majority of her adult life as a client at Diversified Services. Lana had a zest for life and a love of music. It was not uncommon to find Lana singing and dancing to her favourite songs.  She enjoyed spending time with family and friends and had an infectious giggle that could fill a room. Lana especially enjoyed spending her summers camping and fishing at Lake of the Prairies with her parents.  She will be lovingly remembered by her parents, Ed and Elaine Frankow; her sisters: Kim (Barry) Greenwald, Rhonda (Lyle) Meena, and Dayna (Robert) Blanchette.  She was a very special aunt and will be forever missed by her nieces and nephews: Meah, Mitch, Deiter, Carly, Laine, Leah, and Tyler.  She also leaves to mourn numerous aunts, uncles, and cousins. The family wishes to extend a heartfelt thank you to all the wonderful staff on Raphael Wing at Providence Place for the special care that they provided for Lana.  A private memorial service will be held, followed by a celebration of life at a later date.  In lieu of flowers or donations, we ask that you take time to share a smile or a hug with the ones you love.  Lana's kind spirit and unconditional love are her legacy and will never be forgotten.
You weren't like other children,
And God was well aware,
You'd need a caring family,
With love enough to share.
And so He sent you to us,
…And much to our surprise,
You haven't been a challenge,
But a blessing in disguise.
Your winning smile and laughter,
The pleasures you impart,
Far outweight your special needs,
And melt the coldest heart.
We're proud to have been chosen,
To help you learn and grow,
The joy that you have brought us,
Is more than you can know.
A precious gift from Heaven,
A treasure from above,
Lana, you taught us many things,
But most of all –Real love!
Arrangements are entrusted to Moose Jaw Funeral Home, 268 Mulberry Lane.  Todd Sjoberg, Funeral Director 306-693-4550