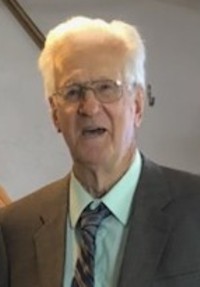 August 19th, 1938 – August 7th, 2022 
Donald Frederick Francis, aged 83 years of Moose Jaw, SK passed away at home on Sunday, August 7th, 2022, just short of his 84th birthday.  Donald was one of six children born to the late William and Mabel Francis.  He was raised a farm boy.  He continued helping his late brother Gordon and sister-in-law Vivian on the farm as long as he could between his weekends and time-off work.  Donald loved the solitude of the field and farm and the fresh milk he also loved to drive!  The family would load up the RV and take road trips to the mountains, which would prove to be one of their favorite spots, and many hours were spent soaking in the hot springs.  Camp was set up beside a stream and water would be drank right out of that very cold mountain stream.  Card games and Bingo were also things Donald enjoyed in his downtime, and of course, tinkering in the garage and helping anyone who asked.
He was predeceased by his wife, Mary.  Donald is survived by his daughters: Cheri (Ken) Drake, Carrie (Derek) Anderson, and Shannon (Ryan) Milne; son, Darryl (Brenda) Francis; stepdaughter, Wanda (Victor) Lamontagne; grandson, Arden Hanson; as well as many more grandchildren and great-grandchildren.
Special thank you to his friend Harvey for checking in and just being there.  
In honouring his wishes there will be no service. In keeping with Donald's wishes, no Funeral Service will be held.  As an expression of sympathy, donations in Donald's name may be made to the Canadian Cancer Society, 1910 McIntyre St, Regina, SK S4P 2R3 or The Moose Jaw Humane Society, Box 1658 Station Main, Moose Jaw, SK S6H 7K7.  Arrangements are entrusted to Moose Jaw Funeral Home, 268 Mulberry Lane.  Andrew Pratt Funeral Director 306-693-4550