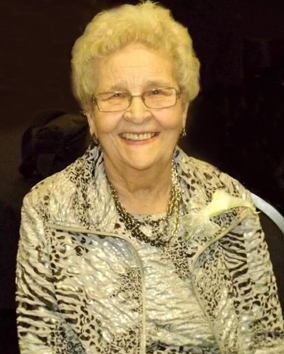 Vivian Alberta Fowler (née: Hetherington) of Moose Jaw and formerly of Eyebrow, SK passed away on Friday, April 22nd, 2022 at the age of 92 years. 
Vivian was born in Assiniboia, SK on October 21st, 1929.  She lived her early life in and around McCord, Gouvenor and Mankota, SK.  She and Harry spent their first years of married life in the Wideview district south of Mankota.  In 1951 they purchased a farm north of Eyebrow and later moved into the village, where she would reside for more than 60 years. 
Vivian was very resilient, always adapting to whatever life threw her way – and there were certainly some tough times.  When she looked back on her long life however, she saw her many blessings.  Her move to Moose Jaw to West Park Crossing, although difficult, allowed her to live fairly independently for another 4 years.  She appreciated the staff at West Park Crossing and their many kindnesses.  She was alert and oriented until the end. 
She was predeceased by her parents, Albert (Ed) and Edith (Loucks) Hetherington; brother, Gordon Hetherington; husband, Harry; sons, Brian and Leon; and grandchildren, Adrian Fowler and Nadia Aitken.  Vivian is survived by her children: Sandra Fowler (John Aitken), Alynne (Clarence) Caswell, and Garth Fowler (Lois Aikens-Fowler); daughters-in law, Edith Fowler and Patti Fowler; 17 grandchildren and 22 great-grandchildren. 
At Vivian's request, there will be a private family celebration of her life. In her memory, donations may be made to the Eyebrow Recreation Board, Box 159, Eyebrow, SK S0H 1L0 or Hunger in Moose Jaw, 269 Stadacona St W, Moose Jaw, SK S6H 1Z4.  Arrangements are entrusted to Moose Jaw Funeral Home, 268 Mulberry Lane.  Michelle Ellis, Funeral Director 306-693-4550