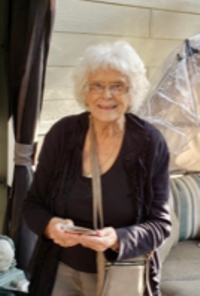 Eileen Cora Fischer (née: Simpson) was born on April 26th, 1933 on a farm in the small prairie town of Darmoody, Saskatchewan, to parents Johnny and Annie Simpson.  Eileen was the youngest of 11 children.  Eileen passed away peacefully on Thursday, August 24th, 2023 at the Dr. F.H. Wigmore Regional Hospital, surrounded by her loving family.  Mom had a stroke on Monday, August 7th, 2023 and she had regained her speech and her beautiful smile, but her body was weak.
At the age of 14, Eileen was given the choice of moving in with her sister Myrtle and family to attend High School in Brownlee, Saskatchewan or find work in the city of Moose Jaw, Saskatchewan.  She chose the later, finding work at the Moose Jaw Union Hospital where she worked until retiring in the 1990's.  Eileen loved her job in CSR department at the Union Hospital. Until her passing, she always talked fondly of her boss Mrs. Friel and the girls in CSR…they were like family.
In the fall of 1952, at the age of 19, Eileen married Sammy Klein, and they had 3 children: Barb, Rick and Sherrie.  They divorced in 1960.  In 1963 Eileen married John Fischer and had a son, John junior.
Eileen's hobbies were shopping, reading, word puzzles and watching tennis.
She was predeceased by her parents and 10 siblings.  Eileen leaves to mourn, her loving husband of 60 years, John; children: Barb (Alvin), Rick, Sherrie (Don), and John (Christine); grandchildren: Ryan (Gina), Jordan (Kristin), Tanya (Damian), Terry, Allison (Jon), Andrea (Curtis), Kada, Keian, and Grace(Brayden); and great-grandchildren: Kaitlyn, Owen, Kayla, Bryll, Beck, Edwin, Devlynn, Charlie, Seth, Alex, Slater, and Lainey.  Eileen had a very close relationships with many of her nieces and nephews who were closer in age than her siblings, having weekly visits with Paulette Campbell (Regina), and daily phone calls from Donnie Lynn from BC.
The family would like to thank Dr. Geyer for his care and kindness to our mother over the years, Dr. F.H. Wigmore Regional Hospital Emergency staff, and also GARU staff at Providence Place for there care and compassion towards Mom.
In keeping with Eileen's wishes, a Private Family gathering will be held at a later date.  In lieu of flowers, donations in Eileen's to the Moose Jaw Health Foundation, 55 Diefenbaker Drive, Moose Jaw, SK S6J 0C2 would be greatly appreciated.  Arrangements are entrusted to Moose Jaw Funeral Home, 268 Mulberry Lane.  Gary McDowell, Funeral Director 306-693-4550