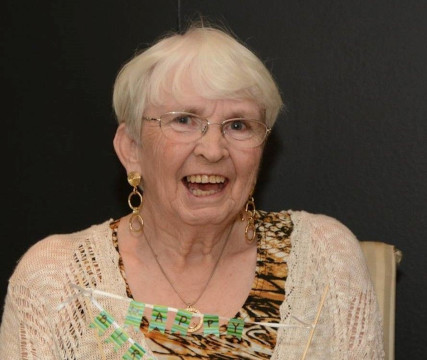 Carol Louise Ferguson (Johnson) entered into the presence of her Savior on Monday October 9 at the age of 84.  Carol was born in Hallock Minnesota, and spent most of her childhood in North Dakota, where she also met and married her grade school and high school sweetheart, Richard W Ferguson.  They enjoyed 40 years together before he passed away in 1999.  Together they lived a life of service and commitment to Jesus Christ as missionaries, Pastor, nursing aid, camp cook and author;  always pointing others to Him wherever they lived. She began her writing career in 1984 and went on to publish many books, poems, articles, and devotionals, even writing for a time for the Moose Jaw Express paper.  After Richard passed away Carol returned to SK and continued in ministry at Hillcrest Church in Moose Jaw as Prayer Pastor and shepherd to seniors.  Over the years, she was a steadfast prayer warrior and lived a life of faith, which she admitted was her spiritual gift. Her spiritual wisdom and advice have been well received by all who knew and read her work, along with her quirky sense of humour and penchant for pranks and being a bit of a clown;  she could be teased into joyful laughter, and she could give it back just as well!  Her diagnosis of ALS did not slow her down and she kept writing and encouraging through her daily Facebook posts, which reached many, many friends around the world! 
Carol is survived by five children; Dean (Glenda) of Winnipeg, MB;  Cheryl (Cliff) Reynolds of Caronport, SK ; Cindy (Paul) Ens of Strasbourg SK; Carrie (Jim) Seavers of Medicine Hat AB; and Cathie (John) Ullrich of Regina SK. She was also called Grandma by 16 grandchildren and 24 great-grandchildren; she called some of those 'freebies' but you can be sure she prayed for each one individually! 
Carol was predeceased by her husband of 40 years, Richard, her sister Earline, one infant son Carrick, one grandson Caleb (Hannah), and several great-grands that we know she will be dancing and snuggling with. 
The family wishes to thank mom's family/caregivers, Cheryl and Cliff, who took mom into their home for the past three years and kept the laughter and joy and purpose alive for mom right to the last day.   Your love and faithfulness to her blessed us all. 
A memorial service is planned for Saturday, October 14th  1:00 pm, at Hillcrest Apostolic Church, 1550 Main Street North, Moose Jaw SK. Arrangements are entrusted to Moose Jaw Funeral Home, 268 Mulberry Lane.  Cara Ashworth Funeral Director 306-693-4550