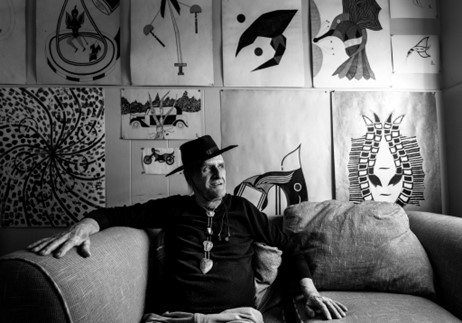 Frank Walter Felt, poet and storyteller (in rhyme, most of the time), embarked to the spirit world with his dear friends by his side, at 2:15 a.m. Saturday, February 4th, 2023, at the age of 79 years.  Frank was born August 30th, 1943 in Mortlach, SK, the second child of Walter and Lena Felt.  Frank grew up on his family farm in Mortlach, learning much about the natural world.  His life's education continued with great engagement after he left the farm. 
His first job was a cook at the Weyburn Psychiatric Hospital.  Shortly thereafter, in the spring of 1962, Frank hitchhiked to Vancouver, BC and found work as a server with BC Ferries.  It was there he saw a job posting for personnel on the Princess Anne, the last steam powered cruise ship in operation, travelling between LA and Acapulco.  Over the years Frank found adventure in a multitude of jobs, from the cruise ship to hi-rise window washer in Vancouver, to painter, custodian, and cook.
It was during his time in BC that he began a spiritual quest for meaning.  This also paralleled his creative awakenings in the visual arts, poetry, and song.  With clairvoyant sensitivities in his lineage (his father was a diviner, receiving an honorary archeological degree for discovering a Buffalo jump), Frank delved into the psychic arts, even working with telepathy in a psychic fair.  Many of his friends can verify the countless times they knocked at his door to be greeted with "Aha, I knew it was you!".  We also remember well, the stories of his out-of-body experiences.  His poetry, art, and songs all reflect this spiritualist philosophy of life, along with a healthy dose of stark and jarring humour that sailed over the heads of many but resounded in those who understood he was addressing the prejudices and preconceptions within our sociopolitical norms of race, sexuality, spirituality and class.

When Frank eventually returned to Moose Jaw from the creative melting pot of 70's west coast lifestyle, he often referred to it as an exile of sorts.  Around this time, he introduced to his audience a literary collaborator, one Alexander Caliostro, as an entity from the spirit world.  Some would say an alter ego or an alternate character.  Whoever Alexander really was, his contributions were substantial indeed.  Tales of wonder and woe told in enchanting and brazen imagery did abound, whenever Alexander was around.
This concept of an "other" personality speaking poetry and prose through him generated some local controversy, even resulting in a performance venue cancelling his show due to threats from a local religious establishment.  Frank took great pride in this accomplishment, as he also did in being banned from a local literary festival for explicit content.  This rejection from the status quo gained him great favour and notoriety among a large community of writers, musicians, and artists.  From a large open area studio above "Julian's Fitness" in downtown Moose Jaw, he opened the Desert Stone Gallery.  Here he worked on and displayed his many pieces of art.  Here, he facilitated the gathering of many musicians and artists, allowing his gallery to be a performance venue and rehearsal space. 
Not only was it a safe haven for eccentrics and artists but he welcomed people from all walks of life.  Katimavick, Canada World Youth, Ukrainian exchange students… his one rule was mutual respect toward all.  There was always a coffee, snack, smoke, ear, crib challenge or story to be shared.  Frank brought people together and in return was loved and admired by most everyone he met.  His influence upon Saskatchewan's art, music and literary community cannot be understated.  Bands have been named after his poems and by he, himself.  Several songs about him have been written and recorded.  Some of his live performances are archived online.  Many more exist on analog and digital media spanning nearly 50 years.  His art adorns walls throughout the nation as he was known to frequently gift his paintings.
Though Frank was little more than penniless his entire life, he was wealthy beyond measure in bountiful friendships.  We all became his family and our hearts extend to his daughter, Jennifer, whom he never knew, having only met her once in his life.  We, his family of friends, know his greatest regret was not being a part of her life.  It was his dying wish for the entirety of his art and estate, or the proceeds of it, to go to her, or to her benefit.

Frank was also very close to his parents, helping them out as they aged.  In their last years he would walk the blocks to their apartment every day, cooking for them and bringing the groceries, and was by their side as they passed on in 2008.
Frank is survived by his daughter, Jennifer Impett; granddaughters, Aleah and Jada; cousins, Ivan Felt and Duane Felt; Kim Ginter; and several nieces and nephews.  He was predeceased by his parents, Walter and Lena (Ginter) Felt; sister, Pat Ferguson; and several uncles and aunts.  
Frank was a unique and true artist in every sense of the word, living life on his own terms.  He liked to feed the crows and continued reciting poetry, creating art and performing until the very end.  Frank "went down his last highway with his lights on bright" to quote a well-loved song of his.  Above all, he was our dear friend, and leaves us, not with an empty hole in our lives, but all the scents and colours from a wild blossoming orchard of memories, inspiration and gratitude.
We, his family of friends thank the staff, especially Lizzie and Mark, in the ICU at the DR F.H. Wigmore Regional Hospital for the exceptional care during his transition.
"Good Joss and White Light Upon You!"
Frank's Celebration of Life will begin at 3:00 p.m. on Saturday, April 29th, 2023 at 1011 Main St. North, Moose Jaw, SK.  Parking on the side streets.  Potluck and Epic Jam to follow.  Call or text Cynthia at 306-631-7120 for more information, or to arrange mobility parking and gear drop-off needs.  
Tributes and E-transfer donations in Frank's Memory can be sent to jenimpett@live.com.
Arrangements are entrusted to Moose Jaw Funeral Home, 268 Mulberry Lane.  Gary McDowell, Funeral Director 306-693-4550