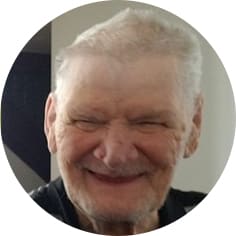 Donald Lyle Farris, aged 79 years of Moose Jaw, SK passed away peacefully on Sunday, March 1st, 2020.  Don was born to Leroy and Mable Farris in Pierceland, SK on April 13th, 1940.  He was the second born of eight children.  He was predeceased by Raymond, Judy, Elsie, and Larry; and is survived by Oscar (Jane), Lorraine, and Brian (Kathy).  Don is survived by his wife of 39 years, Margaret (July 17th, 1980); and was a devoted father to: Lloyd (Wendy), David (Joanne), Kathleen, and was predeceased by Jimmy.  Some would say Don would spoil his grandchildren, Victoria (Brandon) and William; as well as his great-grandchildren, Micheal and Jordyn.  Don went by many different names throughout the years: Husband, Dad, Grandpa, Papa, Uncle, Donkey, Camping Grandpa and many, many more. Some of the things he would like to do throughout his life included hunting, fishing, playing cards and watching any sport that was on TV at the time, but enjoyed Football (Saskatchewan Roughriders), Baseball (Blue Jays), Hockey (Oilers) and Curling.  A Celebration of Don's Life will be held on Saturday, March 14th, 2020 at 1:00 p.m. in Moose Jaw Funeral Home.  
"When I come to the end of the Horizon
And enter the other shore
Remember me with fondness.
Cry for me no more.
I have found my final resting place
That special spot to fish
Remember the times that we shared
You too, I will miss
This is the journey I must take,
and I must go alone
Know that my heart is with you,
as I take this journey home.
To that final fishing hole
For fishermen like me
To tell the biggest fishing tales
About the one that got away
Remember me with fondness
This is not goodbye
It is "Till we meet again"
At the fishing hole in the sky. "
Arrangements are entrusted to Moose Jaw Funeral Home, 268 Mulberry Lane.  James Murdock, Funeral Director 306-693-4550