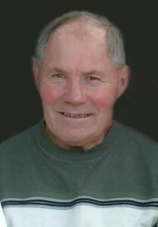 The family of Peter Paul Ewanchook, aged 90 years of Moose Jaw, Saskatchewan are saddened by his passing on Sunday, February 7th, 2021.  Peter was born in Swift Current, SK on July 13th, 1930 to Harry and Catherine Ewanchook, with brothers Henry, James and Joe.
Peter finished his high school in Swift Current.  There, he started working for the Canadian Pacific Railroad (CPR) at the age of 17 as a call boy.  He then moved to Moose Jaw to apprentice at the machine shop, and from there went on to the car department as a Carman.  He was promoted to Car Foreman where he put in many night shifts.  Peter was also the wrecking foreman in charge of the Hook when the railroad picked up their own mess after a derailment.  He retired from the railroad in 1986 after 38 years.
Peter was a proud member of the Moose Jaw Elks for 60 years.  During many of these years, he spent time with the Elks Minor Football program, which allowed many to play the game.  Peter's hobbies were many, including wood working, cabinetry, cooking and gardening, just to name a few.  He dabbled in construction where he built the cabins and store for Loney's Beach Resort at Buffalo Lake in the sixties.  He was a perfectionist in all he did.
He was predeceased by his parents; brother, James; and sons, Stephen and Kenneth.  Peter will be missed by his wife of 66 years, Shereen; children: Dave (Barb), Roberta (Robert), and Debora; grandchildren: Stephanie (Matt), Rebecca (Robin), Sarah (Scott), Jay, Theo and their mother Wendy, Cheryl (Glen), and Honya; great-grandchildren: Jacob, Kenley, Lennox, Benjamin, Zoey, Tobias, Aurelia, Sage (Brooke), Koltin, Josh and Neve; great-great-grandchild, Maya; as well as partners in family and fun, Ed and Wendy Dolny.  
See you later alligator!
May your tomatoes ripen on the vine
and your flowers bloom forever.
A Private Family Service will be held to honour Peter.  As an expression of sympathy, donations in Peter's name may be made to The Moose Jaw Humane Society, Box 1658 Station Main, Moose Jaw, SK S6H 7K7.  Arrangements are entrusted to Moose Jaw Funeral Home, 268 Mulberry Lane.  Todd Sjoberg, Funeral Director 306-693-4550