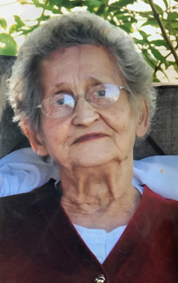 Laura Georgina Maria Ethier
It is with great sadness that we announce the passing of Laura Georgina Maria Ethier, aged 99 years of Moose Jaw and originally of Debden, SK on Monday, March 22nd, 2021.  Laura was born in Shell River, Saskatchewan to Laure and Theodore Gaudreault on September 14th, 1921.  She was raised on her father's farm until she married Zenon Ethier on December 28th, 1940 and moved to the Wanekena area. 
She was predeceased by her parents, Laure and Theodore; husband Zenon; six of her siblings; daughter, Juliette Derouin; grandsons, Paul Jr Ethier and Jeffrey Ethier; and great-grandson, Jordan Ethier.  Laura is survived by her children: Albert (Martha), Paul, Marcel (Patricia), Laurainne (Ron), Maurice (Denise), Alfred (Debbie), and Walter (Lisa); grandchildren: Lorraine, Keith, Susie, Addie, Cecile, Michelle, Lynn, Gordon, Cindy, Ted, Derek, Kristie, Courtney, Daryl, Tiffany, Whitney and Brian and their partners; sister, Margerite (Irvin); brother, Simon (Ruby); as well as many great-grandchildren, nieces, and nephews. 
Laura had a few passions in her life, the first being her children, grandchildren and great-grandchildren.  Her other passions were her gardens and her baking.  She loved to knit socks and make handmade quilts for her loved ones. 
Granny was a proud farm wife to Zenon for forty-three years and a wonderful, giving mother to her eight children.  She continued to live on the farm five years after Zenon's passing.  Granny then moved to a cute little apartment in Debden.  In December of 2007, Laura moved to Moose Jaw to be near Walter and Lisa and their children.  After living with Walter and Lisa for a few years, Laura moved to her permanent home at Providence Place in Moose Jaw until her passing.  
Over the years, Granny taught her grandchildren to knit, bake pies and fix their own clothes.  Laura was lucky enough to watch her grandchildren get married and raise their children.  Laura has been an amazing example of what a wife, mother, grandmother, great-grandmother, aunt and friend should look like.  
Laura never forgot where she came from and often spoke of Debden and the people she met throughout her life.  She was an inspiration to us all.  Her humour was one of a kind, and anyone who met her never forgot her. 
"Mom, have a safe journey; we love you and miss you already."
A Private Family Service will be held at a later date.  Arrangements are entrusted to Moose Jaw Funeral Home, 268 Mulberry Lane.  Todd Sjoberg, Funeral Director 306-693-4550.