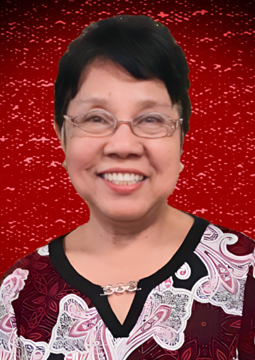 Cresencia Esguerra passed away peacefully at the Dr. F.H. Wigmore Regional Hospital on Wednesday, December 21st, 2022.  
Cresencia will be lovingly remembered by her husband, Proceso; children: Grace (Abner) Mangaoil, Mhyla (Pharlie) Tolentino, Lance, Aileen Esguerra (Jim Haughian) and Patrick; grandchildren: Mc Farlin, Feona Mayne, Mat Farly, Alexander, and Gabriela.  She is also survived by her siblings: Normilo (Edith) Dacunos, Diosdado (Nita-deceased) Dacunos, Quesonia (Bert-deceased) Cuntapay, Romulo (Anabel) Dacunos, Gloria (Rey) Conception, Annie (Rommel) Dumaguina; sister-in-law, Precy; as well numerous nieces, nephews, and friends.  She was predeceased by her father, Leonardo Dacunos Sr.; mother, Tasiana Dacunos; and brother, Leonardo Dacunos Jr.
Cresencia was born on June 15th, 1951, and was raised in Cordon, Isabela, Philippines.  She was the eldest of her younger sisters Quesonia, Gloria and Annie, and brothers Normilo, Diosdado and Romulo. 
Cresencia and Proceso were married on April 7th, 1974.  They were blessed with three daughters and two sons.  Cresencia and Proceso were both active in the church in the Philippines.  They came to visit Canada as a tourist a couple times before they became immigrants for almost two years.  In June 2021, Cresencia was diagnosed with Liver Cancer and had gone through TACE procedure treatments. 
They spent 48 blessed years together farming rice and vegetables.  This not only provided their source of income it also provided food for their family.  Cresencia was a good money saver.  We call her "The Human Saving Bank" because she wanted to make sure that she had enough money to send their children to school.  She always said that "Education is our only inheritance to you" because "Education is one thing that no one can take away from you".
As a family, we would like to thank Dr. Eric Bortolotti, Dr. Rodwan, Dr. K. Brabant, Dr. A. Savin, Dr. Chalchal from Allan Blair, Dr. O'Byrne and Dr. Ogaick from Saskatoon, Dr Hyatt Shaw, Charge Nurse Debb, as well as all the staff and nurses of the Dr. F.H. Wigmore Regional Hospital for all the love and care shown to Mom for more than two weeks.  The family would also like to thank the staff and residents of The Bentley Retirement Home.
We are deeply indebted to many friends (residents from The Bentley Retirement Home) for the non-stop prayers, and co-workers who came to pay a visit and support our family.  Thank you and God Bless Your Heart.
The Funeral Service will be held on Tuesday, December 27th, 2022 at 2:00 p.m. in Moose Jaw Funeral Home with Fr. Yodel Cereno presiding.  Those unable to attend may view the service virtually by going to www.moosejawfuneralhome.com/webcast/.  Arrangements are entrusted to Moose Jaw Funeral Home, 268 Mulberry Lane.  Michelle Ellis, Funeral Director 306-693-4550