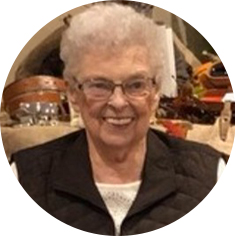 Isabelle "Belle" May Erskine
Isabelle "Belle" May Erskine, aged 87 years of Moose Jaw, SK passed away on Thursday, January 21st, 2021.  Belle was born May 2nd, 1933 in Morse, SK to Verne and May Williams.  She lived her life in Saskatchewan, working at Western Press, Eaton's, Fanny's Fabrics, and Sole Comfort, as well as farming with her husband Jim.  Belle married James "Jim" Erskine on March 30th, 1957 in Moose Jaw.  
She was predeceased by her parents, Verne and May Williams; husband, James; brother, Edgar (July 9th, 1985); sisters, Evelyn (November 14th, 2012) and Iris (August 28th, 2012); brothers-in-law: Harold, Albert and Russ; and sisters-in-law, Donna and Anne.  Belle is survived by her sisters-in-law, Doreen and Gwen; as well as numerous nieces and nephews, great-nieces and nephews; and her dog, Rosie.  
A Private Family Graveside Service will be held at Rosedale Cemetery.  Family and friends are invited for a Time of Fellowship on Saturday, September 18th, 2021 at 4:00 p.m. in the Harvey Room at Moose Jaw Funeral Home.  As an expression of sympathy, donations in Belle's name may be made to the Moose Jaw Health Foundation, 55 Diefenbaker Drive, Moose Jaw, SK S6J 0C2 or The Moose Jaw Humane Society, Box 1658 Station Main, Moose Jaw, SK S6H 7K7.  Arrangements are entrusted to Moose Jaw Funeral Home, 268 Mulberry Lane.  James Murdock, Funeral Director 306-693-4550