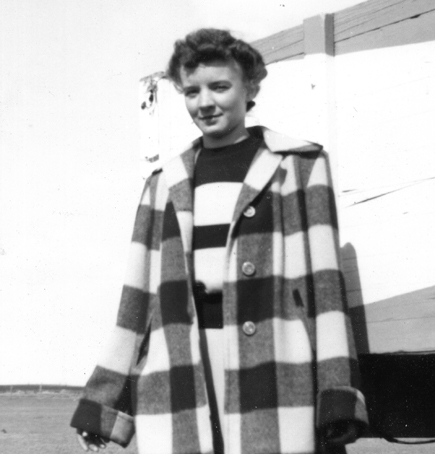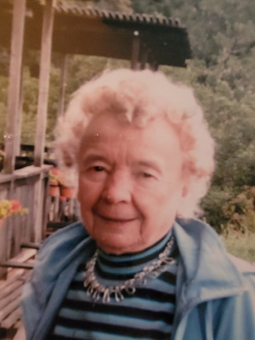 Doreen Annitia (Wright) Erskine
May 21, 1927 – December 4, 2021
Quietly, with dignity and grace, Doreen Annitia (Wright) Erskine passed away on December 4, 2021 at the age of 94 years at Providence Place, Moose Jaw, Saskatchewan. She loved Providence Place.  Before becoming a resident, she volunteered there for twenty-two years.  It always felt like home perhaps because she began her working career at Providence Hospital in 1949.  
Doreen was born May 21, 1927 in Eyebrow, Saskatchewan.  Doreen was predeceased by her parents, John and Hilda Wright, husband Russell Erskine in 1997, brothers Ray, Wilbur and Johnny Wright; brothers-in-law Jim, Albert and Harrold Erskine, Gerry Walker and Joe Boivin; sisters-in-law Donna and Anne Erskine and Shirley, Shirley, Hilda and Elva Wright.
Doreen was a loving daughter, sister, wife, aunt and friend. She leaves behind a family who are grateful for the love she shared, sisters Margaret Walker and Gwendolyn Boivin; brother Tommy (Sandra) Wright. She is also survived by several nieces and nephews who all loved their Auntie Doreen and enjoyed beautiful times with her during Christmas and while visiting the cabin at Buffalo Pound Lake.
Doreen's parents and grandparents, aunts and uncles had a major influence on her during her childhood years. She began school in a one room country school north of Eyebrow. Doreen grew up on farms near Moose Jaw and Boharm.  She worked with her family and later with her husband Russell to create a successful farm life, which she loved.  It was on the farm that Doreen truly lived an honest, hardworking and engaged life. As a teenager she built a barn at Uncle Buddy's farm, dismantling the old one, salvaging the materials, buying new lumber with her own funds and then building a better one. Many years later, while waiting for her motorhome to be repaired in Mesquite, Nevada, Doreen did an oil painting of the barn from a photo her mother had taken.
It was in Moose Jaw that she met Russell and they were married in 1952.  They formed a partnership like no other, working side by side.  
Doreen was very active at St. Andrews Church where she sang in the choir and was always involved in the church events. Doreen's personality and zest for life touched the lives of the many friends she held dear. She spent countless hours caring for the elderly, enabling them to stay in their homes longer.  Doreen cherished her time working at the Providence Hospital and Bray's Seeds.
Doreen and Russell loved their vacations, especially their motorhome trips to the southern sunshine states.  Later, she and other family members wintered in the south, went on cruises and travelled overseas to the Philippines and to visit relatives in England.
Doreen and her sisters Margaret and Gwen were very involved in the Saskatchewan Senior Games which took them too many destinations across Canada, sometimes in her motorhome.  Doreen was a true champion and athlete. She was a master of shot put, discus and javelin.  She brought home numerous medals!  She loved to garden, always growing the best potatoes.  She also loved to sew, quilt, crochet, tatting and paint with oils.  She spent countless hours creating and constructing very unique items with refurbished materials.  In her nineties, her most cherished project was her memoir.  Each family member was gifted with a copy in December, 2019.
Her biggest joy was gathering with family at dinners for Thanksgiving, Christmas and New Year's.  Doreen loved a good party, whether she was hosting or attending one. She was a fabulous cook and a hostess like no other.
Doreen was an exceptional person.  She was a great storyteller and once she had your attention you were captivated!  She was a kind, generous lady, always nurturing someone in need and forever rescuing stray animals.  Her positive spirit will be dearly, dearly missed but fondly remembered.  
What an incredible life!
A Funeral Service for Doreen will be held on Thursday, December 16, 2021 at 11:00 a.m. in Moose Jaw Funeral Home. Rev. Jim Tenford will officiate. Those unable to attend are invited to watch the service virtually by going to www.moosejawfuneralhome.com/webcast/.  In lieu of flowers those wishing to make a donation in Doreen's name may donate to St. Andrews Church 60 Athabasca St. E. Moose Jaw, SK S6H 0L2.  Arrangements are entrusted to Moose Jaw Funeral Home, 268 Mulberry Lane.  Todd Sjoberg, Funeral Director 306-693-4550