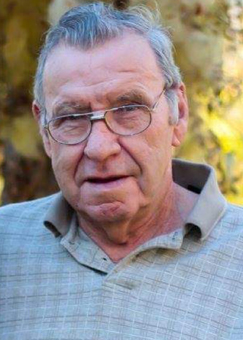 It is with heavy hearts the family of Barrie William Erskine announce his passing on Friday, June 4th, 2021.  Barrie was born on September 22nd, 1938 in Gravelbourg, SK to Jack and Alice Erskine.  Barrie was the youngest of 5 boys.  He grew up on the family farm near Gravelbourg.  As a young boy Barrie loved the farming life style, especially the horses and dogs.
On October 6th, 1962 Barrie married the love of his life, Marlene Valness.  Over the course of their 58 year marriage, they raised 4 children: Russell, Rhonda, Shauna and Shannon.  They raised their family in the town of Ormiston, where he worked at Ormiston Mining and Smelting for 33 years.  Barrie and Marlene moved to Moose Jaw in 1997, and Barrie retired in 1999.
In 1991, Barrie and Marlene began their journey as foster parents.  Over the years they opened their home to over 100 children, loving each one unconditionally, as though they were their own.  Barrie and Marlene fostered children right up to Barrie's passing. 
Barrie loved sports, including baseball, curling and golf.  He loved to play, coach and attend sporting events, and was an avid Moose Jaw Warriors season ticket holder for years.  If he wasn't enjoying sports, he could be found at the Town and Country Mall enjoying coffee with his friends.
Although Barrie loved many things in his life, he loved nothing more than his family.  Barrie loved and supported every member of his family no matter where they were in life.  He loved Marlene, his children, his grandchildren, great-grandchildren, his foster children, and extended family and friends unconditionally.
He was predeceased by his parents, Jack and Alice Erskine; brothers: Gordon Erskine, Russell Erskine and Bob Erskine; mother-in-law, Dora Valness; father-in-law, Stanford Valness; and son-in-law, Glen Smith.  Barrie is survived by his loving wife, Marlene Erskine; children: Russell (Kathy) Erskine, Rhonda Entz, Shauna Duzan and Shannon Erskine (Josh Wiens); brother, Glen (Shirley) Erskine; sisters-in-law: Bernice Erskine, Bev (George) Auger, Diane (Mel) Stephanson, Donna Valness (Kirby Forsyth), and Lynda (Ed) Schneider; brother-in-law, John Valness; 11 grandchildren and 3 great-grandchildren; as well as many nieces, nephews and friends.
Due to Covid-19 restrictions, a Private Family Service will be held.  Flowers are gratefully declined.  As an expression of sympathy, donations in Barrie's name may be made to the Kidney Foundation of Canada, #1 – 2217 Hanselman Court, Saskatoon, SK S7L 9Z9 or to a charity of one's choice.  Arrangements are entrusted to Moose Jaw Funeral Home, 268 Mulberry Lane.  Andrew Pratt Funeral Director 306-693-4550