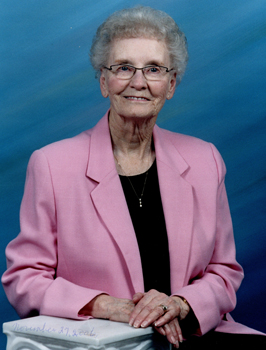 Gladys Erdelyan (nee Burwell)
1924 – 2022
Gladys Erdelyan left all the treasures of this world behind on June 15, 2022 with family by her side. Gladys was born on October 31, 1924 to Charles and Maud Burwell.  She was the eldest of five children.  
She was predeceased by her loving husband, Johnny; siblings: Pearl, Bev, Evelyn and Dennis and great granddaughter Amanda Harlos. 
Gladys' treasure was family.  Her children: Garry (Joyce), Cheryl (Wilf) Harlos, Ken (Janet) and Terry (Carla); Grandchildren: Darren (Jen) Harlos, Emily (Cody) Lemon; Randy; and Michael (Erin) Harlos, Ava, Macy and Everett; Robin Erdelyan, Rylan and Bryden; Shawn (Marla) Erdelyan, Cody, Lane and Lucas; Taylor (Laurie) Erdelyan, Maddie and Kinsley; and Leah (Kade) McIntosh, Claire, Jackson and Amelia; and Cassidy Erdelyan.
Gladys was raised in Gray, SK.  While teaching at Sudom School, she met Johnny, a young farmer from Avonlea. They married and built a life together that spanned nearly 60 years in Avonlea.  The foundation of that life was a deep love of family and a shared love of farming. 
Gladys embraced every part of farm life.  She became well known for her fried chicken, and the buns and bread that she baked.
She was also a lifelong learner spending many happy hours on her computer keeping in touch with family and friends.  Gladys combined her love of writing and history to record much of the family history.  A wonderful legacy to the grandchildren and great-grandchildren that she loved so much.
The family is grateful to the staff at Avonlea Coteau Range Manor for their excellent care and Dr. John Morris for his years of compassionate care.
Special thanks to Joyce for always being there for mom and our family.  To nieces Pat Maguire and Jody Powers for making mom feel so special.  Thanks also to Joan Hansen for sharing her musical talents with mom.
A Celebration of Gladys's Life will be held on Monday, July 11, 2022 at 11:00 a.m. in Moose Jaw Funeral Home.  Rev. Jennifer Holtslander will officiate.  Those unable to attend are able to view the service virtually by going to www.moosejawfuneralhome.com/webcast/.  In lieu of flowers, donations in Gladys's name may be made to Avonleau Coteau Range Manor Activity Fund, Box 60 Avonlea, SK, S0H 0C0.
Arrangements are entrusted to Moose Jaw Funeral Home, 268 Mulberry Lane.  Michelle Ellis, Funeral Director 306-693-4550