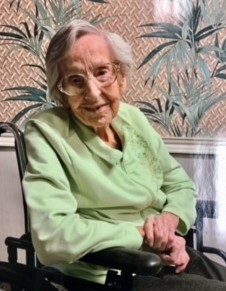 Violet Mary Ann England (née: Kitts), aged 106 years of Moose Jaw, SK passed away on Saturday, April 17th, 2021.  Born May 18th, 1914 in Expanse, SK, Violet was raised on the family farm at Dunkirk District south of Moose Jaw.  She attended Fertile Field School.  Violet, along with her siblings Bill, Bun and Bert Kitts, and Florence (Kitts) Farmer all worked on the farm. 
After high school, Violet married Lawrence England and lived in British Columbia for throughout their marriage.  Lawrence owned a John Deere Dealership and Violet was a homemaker.  Vi moved to Moose Jaw, after her husband passed away, for her retirement where she spent the last several years living at Chez Nous. 
Vi spent many years keeping contact with several cousins, nieces, nephews and long-time friends.  Vi loved receiving phone calls and many cards throughout the years.  She lived a long and peaceful life.
During visits with Vi, she would recall details of the family history with amazing detail, sharing information the younger generation did not know.  She had a great sense of humor and took teasing from her nephews with a giggle, often responding with surprising cheekiness, leaving everyone sharing joy.
Violet is survived by her Moose Jaw nieces and nephews: Marlene Peters, Ken, Bob, Brian and Grant Kitts and families, and Sharon, Lyle, and Lawrence Farmer and families who are children of Vi's sister Flo.
The family would like to thank the staff at Chez Nous, who were her Moose Jaw family, for the care and compassion they demonstrated to Violet over the past 13 years.    
Due to the current health situation, A Private Family Service will be held with interment taking place in Moose Jaw.  For those so wishing, memorials in Vi's name may be made to Chez Nous, 1101 Grafton Ave, Moose Jaw, SK S6H 3S4.  Arrangements are entrusted to Moose Jaw Funeral Home, 268 Mulberry Lane Todd Sjoberg, Funeral Director 306-693-4550