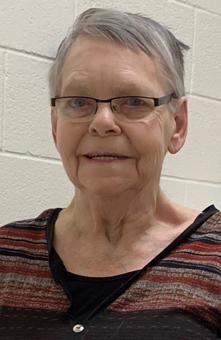 Carol Ann Engel passed away peacefully on Monday, June 14th, 2021 in her residence at Moose Jaw Extendicare, at the age of 73 years.  In lieu of a Funeral Service, the family will be holding an online Memorial Service via Zoom for family and friends. 
Carol was born on February 18th, 1948 in Herbert, Saskatchewan to John and Thelma Engel.  She left her hometown for Saskatoon at an early age where she met and married Cornelius Giesbrecht in 1966.  They had 2 children, Lance Giesbrecht and Clinton Giesbrecht.  Carol was a spirited person that loved the feeling of the open road that a car would bring you, and the opportunities that presented themselves when one found a new and interesting place to call home.  Carol spent her early years as a Kootenay, BC resident living in Nelson, Trail, and Kaslo.  Winnipeg became her home later in life, where as an adult learner, Carol had successfully returned to school to complete her high school upgrading and eventually also completing a program in bookkeeping.  In Carol's later years she moved to Calgary, AB, following her two boys whom she loved tremendously.  As Carol's final destination, she returned to the Herbert area living in Chaplin and finally Moose Jaw, coming full circle to her roots. 
Carol loved her cat buddy, horror movies and books, needle point, and talking with anyone that came within her circle.  She was a mother and grandmother who always offered smiles and loved to laugh.  It was noted by the staff at Extendicare that Carol was always upbeat and full of humor.  
She was predeceased by her parents, John and Thelma Engel; second husband, George Rochon; and youngest son, Clinton Giesbrecht.  
The family wants to extend its thanks and appreciation to the staff at Moose Jaw Extendicare, as it was their care, hard work, and humanity that made all the difference to Carol's wellbeing and quality of life.  
Rest in peace Carol and say hello to Clinton for us all.
Arrangements are entrusted to Moose Jaw Funeral Home, 268 Mulberry Lane.  Michelle Ellis, Funeral Director 306-693-4550