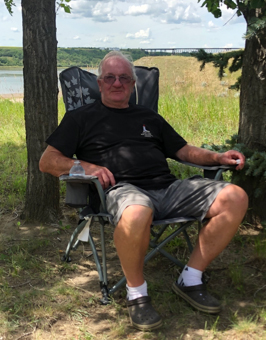 It is with great sadness that the family of Barry Lee Ellis announces his sudden passing at their home in El Centro, California on Sunday, January 2nd, 2022 at the age of 75 years.    
Barry was born on August 17th, 1946 in Dinsmore, SK to Bill and Margaret Ellis.  He received his education at Dinsmore School, completing his grade 10 before joining his dad and Orv on the family farm.  
Judy Lloyd caught his eye in grade school, and in 1968 they were married.  In 1973 they welcomed their first son, Chris, followed by Les in 1976 and Michelle in 1981.  
When Barry wasn't in the field or tending to the livestock, he and Judy could be found at the rink in the winter or ball diamond in the summer.  Sports was a huge love of his.  Traveling around the province for Old Timer ball made for the best summers for the Ellis family, many life-long friends where made here, stories and memories that will never be forgotten.
Barry was his kids' biggest fan.  It didn't matter what sport they were playing or what life adventure they were taking on…he was always right beside them cheering them on and giving advice when needed.  But nothing lit up Barry's face more than his grandkids.  These 8 kids where the real joy of his life and he wasn't afraid to say so.  He always wanted to know how they were doing in their sports and hobbies, and he would be watching them when he could, wanting to know when he would see them next.  
In 2006 Barry and Judy pulled their trailer down to Rio Bend Trailer Park in El Centro, CA.  In 2014 they purchased their mobile home there.  Spending their winters there together doing exactly what they loved made Barry so happy.  Golfing, tinkering in his shed and socializing was his life.  Happy hour with his close circle of friends was always a highlight of his day and Rio Bend won't be the same without him.
He was predeceased by his mom and dad; sister-in-law, Doreen Lloyd; and brother-in-law, Bob Barr.  Barry will always be in the hearts of his wife of 53 Years, Judy Ellis; sons, Chris (Angela ) Ellis and Les (Tanya) Ellis; daughter, Michelle Ellis (Jason Fowlie); grandchildren: Paige, Ryder, Sam, Emma, Avery, Ella, Ashley, and Brooke; brother, Keith Ellis; sister, Gail Barr; his lifelong partner in crime, Orvall Durell; brothers-in-law, Bob (Joanne) Lloyd and Jack Lloyd; as well as many nieces, nephews and family members.
A Celebration of Barry's Life will be held on Wednesday, January 19th, 2022 at 2:00 p.m. at the Dinsmore Community Hall in Dinsmore, SK.  The family is requesting that only those who are fully vaccinated attend and masks will be mandatory.  As an expression of sympathy, donations in Barry's name may be made to the Dinsmore AGT Memorial Arena c/o Village of Dinsmore, Dinsmore, SK S0L 0T0.  Arrangements are entrusted to Moose Jaw Funeral Home, 268 Mulberry Lane.  Michelle Ellis, Funeral Director 306-693-4550