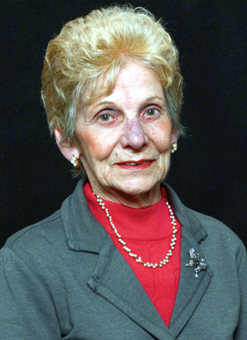 March 26th, 1935 – November 4th, 2021

With heavy hearts we announce the passing of Joan Elizabeth Ellingson (née: Kasper).  She was predeceased by her husband, Guy in April 2004; her mom and dad, Clementine and Jacob Kasper; and many cherished brothers, sisters, and their families.  Joan is survived by her sons: Paul (Maxine) Lundman [Swift Current, SK], Sheldon (Mary) Ellingson [Kimberley, BC], and Sheridan (Jodi) Ellingson [Tisdale, SK], grandchildren: Miranda (Marc) Mulatz [Burnaby, BC], Taylor (Adam), Zachary, Jessica, and Nathan Ellingson [all from Tisdale, SK]; siblings: Betty Petrovic, Kenny Kasper, Janet Kozo, Lydia Andrie, Eileen (John) Lyster, Billy (Dianne) Kasper, Fred (Barb) Kasper, Pauline Graves, and Clementine Slon; numerous other relatives; and Grand puppies and kitties: Kola, Dakota, and Cuddles.  She loved her grand pets too.
Joan was born in Holdfast Saskatchewan and moved to Moose Jaw, SK in 1947.  She met and married Guy in 1966.  She worked as a waitress and Canadays Apparel for many years, and then at the Northwest Daycare Center around the early 1980's.  Joan finally got her driver's license around 1981-83 and her first car was a 1969 Envoy.  She only drove when she had to, and continued up until earlier this year.
Joan loved sewing, working with Guy in the garden, and baking for her family.  No matter who came over to visit – nobody went hungry in her house.  Joan and Guy worked on various wood-working projects and enjoyed spending time together.  We are thankful that they are together once again.  She was always on the go and took no sass from her boys.
  
In keeping with Joan's wishes there will be no funeral service.  Everyone is welcome to attend her burial on Saturday, November 13th, 2021 at 1:00 p.m. in Rosedale Cemetery in Moose Jaw.  Shortly after there will be a private gathering for all family and siblings at Joan's house for tea and memories.  We thank everyone who has touched Mom's life and made this difficult time for the family comforting.
Due to Covid precautions, if you are or have been ill in the past 14 days we request that you do not attend the tea at the house.  Your love and support is greatly appreciated.  In lieu of flowers, donations in Joan's name may be made to the Canadian Cancer Society, 1910 McIntyre St, Regina, SK S4P 2R3 or to a charity of one's choice.  Arrangements are entrusted to Moose Jaw Funeral Home, 268 Mulberry Lane.  Gary McDowell, Funeral Director 306-693-4550