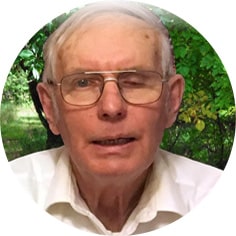 Donald Gene Dyck, aged 76 years of Moose Jaw, SK passed away on Thursday, May 7th, 2020.  
Donald was born on November 7th, 1943 in Herbert, SK.  He was the youngest of 11 children.  Donald married Leonora Dueck on November 28th, 1964 and they resided on the family farm, where they began their family.  They left the family farm in 1971.  In 1974, they moved to Moose Jaw to begin Donald's career as a Heavy Duty Mechanic for the Department of Highways.  In 1992, he and Leonora moved to Riverhurst, SK where he continued working for the Department of Highways for the surrounding area, including the Riverhurst Ferry.  Here he served as the mayor for a short time.  Donald retired from the Department of Highways after 30 years of service.  In 2015, He and Leonora moved back to Moose Jaw.
Donald enjoyed woodworking and spent a lot of time with family and friends building and remodelling.  He built many things for his family members and spent countless hours working on the remodelling of the Riverhurst Retreat.  He also enjoyed camping, fishing, boating, hunting and playing cards.  Family gatherings were also very important to him.
He was predeceased by his grandson, Tim; parents, David and Katherine Dyck; brothers: Irvine (Sarah) Dyck, Clarence (Toots) Dyck, Alfred (Suzie) Dyck, John (Edna) Dyck, Verchal, and Harold (Marg) Dyck; sisters, Arlene (Doug) Funk and Caroline Reimer; and brother-in-law, Henry Funk.  Donald will be lovingly remembered by his wife of 55 years, Leonora; children: Rockie (Lana), Michele (Gregg), Colleen (Mark), Todd (Stacey), and Stacey (Pam); 13 grandchildren and 8 great-grandchildren; brother, Herb (Nettie) Dyck; sister, Alvina Funk; and brother-in-law, Bill Reimer.
Special thanks to the Dr. F.H. Wigmore Regional Hospital and to Providence Place in Moose Jaw for the care you provided over the last seven months.  
Due to the current health situation, a Private Family Service will be held at Herbert Cemetery.  As an expression of sympathy, donations in Donald's name may be made to the Alzheimer Association of Saskatchewan, 301 – 2550 – 12th Ave, Regina, SK S4P 3X1.  Arrangements are entrusted to Moose Jaw Funeral Home, 268 Mulberry Lane.  Andrew Pratt Funeral Director 306-693-4550.