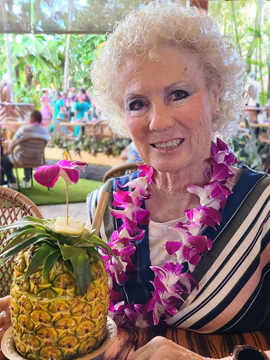 Carol Jean Dyck (née: Griffiths) aged 70 years of Caronport, SK, went to be with her Lord and Savior on Sunday, August 6th, 2023.  Carol was born March 31st, 1953 in North Platte, NE to Robert Lee and Betty Lavon Griffiths.  She grew up excelling in piano, participating in gymnastics, track and field, barrel racing in high school (NPHS '71), and riding horses in 4-H.  At the age of 6, Carol accepted Jesus Christ into her heart at the Berean Fellowship with her pastor's wife, Mrs. Olsen.  At 16, she dedicated her life to serve God in all she did at Maranatha Bible Camp. 
In the Fall of 1972, Carol started her Music and Bible Studies at Briercrest Bible Institute, and graduated in 1975 from a four-year program in three years.  She met her husband, Kenneth George Dyck of Abbotsford, British Columbia, at BBI and married him on August 15th, 1975.  They served in the pastorate in Montana and Washington State before returning to BBI to work in the dorms and music department.  After they arrived, Carol started coaching the college volleyball team and mentored the young women.  She coached for 9 years and took her volleyball teams to the Nationals multiple years.
When they had their two daughters, (Carol) Vanessa and Kendi Camille, Carol decided to stay home to care for them while teaching Music for Young Children.  She taught with MYC for about 15 years before teaching privately for a few years.  During the summers, Carol followed her grandparents and parent's legacy and traveled to Maranatha Bible Camp, NE where she touched the many staff and visitors lives as she worked in the Information Center.  Recently, she enjoyed serving churches by playing piano and sharing in Bible studies.  She considered all these her mission fields.  Carol was a loving wife, mother, sister, and friend. 
She was predeceased by her parents, Robert and Betty.  Carol is survived by her husband, Ken; daughters, Vanessa Dyck and Kendi Dyck (Ryan Nimmons); siblings: Robert Jr. (Roxann) Griffiths of Nashville, TN, Connie (Paul) Huebner, Danny (Cyndi) Griffiths, and Ron (Theresa) Griffiths, all of North Platte, NE; 10 nieces and nephews; 12 great-nieces and nephews; as well as many other family. 
A Private Family Graveside Service will be held on Monday, August 14th, 2023 at 10:00 a.m. (Saskatchewan time) in Caronport Cemetery, Caronport, SK.  All are welcome to view the service virtually by going to https://youtube.com/live/y1jq53ml9BI.  Following the Service, there will be a Come and Go Reception at the Golden Age Centre, Caronport, SK from 11:00 a.m. to 1:00 p.m.  A Time of Visitation for Family and Friends will take place on Sunday, August 13th, 2023 from 6:00 to 8:00 p.m. in Moose Jaw Funeral Home.  For those wishing to send gifts in memory of Carol, please consider Briercrest College and Seminary, 510 College Drive, Caronport, SK S0H 0S0, Maranatha Bible Camp, 16800 E Maranatha Rd, Maxwell, NE 69151, and Prairie College, Box 4000, Three Hills, AB T0M 2N0.  Arrangements are entrusted to Moose Jaw Funeral Home, 268 Mulberry Lane.  Gary McDowell, Funeral Director 306-693-4550