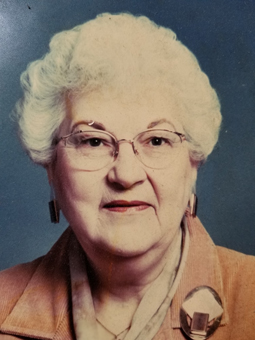 Mona Duchak passed away peacefully at the age of 92 on September 14th, 2021 at the Luther Special Care Home.
Mona was born to Gustav and Nora Johnson on November 14th, 1928 in Assiniboia, Saskatchewan. Mona met and then later married Stan Duchak in May 1950.  They had two children Ron and Barb.  They started out in Moose Jaw and later moved to Saskatoon when she was transferred with her job.  She worked for Sask Power until her retirement in 1983.  Mona was predeceased by her husband Stan in April 2001, and her siblings Arvid, Veva and Eva.
Mona loved to get together, visit and keep in touch with family and friends.  She enjoyed relaxing and playing scrabble with family.  Mona loved to dote on and spoil her grandchildren. She took up selling May Kay after her retirement so she could keep busy and stay in touch with people.
Left to cherish her memory are her son Ron (Susan) of Saskatoon, daughter Barb (Daryl) Campbell of Calgary, six grandchildren Matthew, Patrick, Jonathan, Shawn (Meagan), Nathan and Kristen; four great grandchildren Dylan, Lilly, Emerson and Jackson.
A Graveside Service will be held on Tuesday, July 12th, 2022 at 11:00 a.m. in Sunset Cemetery with Celebrant Dave Foley officiating.  A Time of Fellowship will follow in the Harvey Room at Moose Jaw Funeral Home.  Arrangements are entrusted to Moose Jaw Funeral Home, 268 Mulberry Lane.  Michelle Ellis, Funeral Director 306-693-4550.