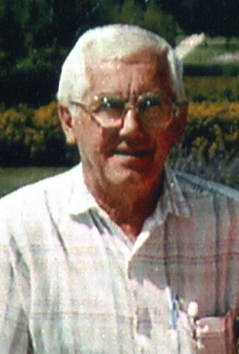 John Steve Dutchak, aged 87 years of Moose Jaw, SK passed away on Thursday, April 7th, 2022.  John was born on May 8th, 1934 to John Dutchak and Rachelia "Rosie" (née: Oleynek).  John's parents along with his oldest siblings Karl and Irene immigrated to Canada from the Ukraine in the late 1920's.  They eventually settled in Moose Jaw.
John came from a large family of two brothers and five sisters.  He grew up on South Hill and attended Westmount Public School.  He graduated in 1952 from "Moose Jaw Technical High School" with a basic drafting course.  He started working at Moose Jaw Plumbing and Heating.  From there he completed a Metal Mechanics course and after four years as an apprentice he obtained his Journeyman certificate.  John was a hard worker and was considered "one of the best in the trade".  He worked in the trades for 38 years doing industrial work, mostly at C&E Heating and Plumbing.  He was a very proud member of "Local Union #179".
John met Elaine Davidson from Estevan, SK in 1956 in Moose Jaw at Temple Gardens Dance Hall.  They fell in love and got married in St. Andrew's Church on August 9th, 1958.  They started their life and family on 4th Ave NW in Moose Jaw.  They had two children, Shelley and Greg, and eventually built their dream and forever home.  
John loved to tinker around in his garage and was quite a "Jack of all trades".  He could fix anything and always had the right part for the repair job.  His saying was "nothing is impossible, it just takes longer".  He worked as a handyman for ten years after he retired.  He took care of his home repairs, keeping everything in tip top shape until his health would not let him do so.
John liked all sports and played softball in his younger years.  He always looked forward to their Grey Cup party each year.  He enjoyed family and friends and had many fond memories of card nights, family dinners and get-togethers.  He was a member of the Barbershoppers and a member of St. Andrew's United Church Choir.  
John's pride and joy was his 1975 camper van and all the camping trips he and Elaine went on.  Their van was well known because of its unique storage compartment John made shaped like a Saskatchewan grain elevator.  It was attached to the back of the van, totally one of a kind!  John and Elaine took trips across Canada, as far as Alaska and the North West Territories, as well as parts of the United States.  They took a family trip to Disneyland, California in the 1970's making lasting memories of a good time spent together.  
He was predeceased by his Father, John; Mother, Rosie; brothers, Karl and Nick; sisters, Irene Petch and Stella Metz, and special sister, Helen; brother-in-law, Bill Metz; in-laws: Clarence and Cynthia Davidson, Yvonne and Maurice Monteyne, Lorraine and Bud Williams, and Wayne and Elaine Davidson.  John will be sadly missed by his wife of 63 years, Elaine; daughter, Shelley (Ton) van Hallem; grandson, Marc Gould (Salmon Arm), granddaughter, Ashley (Chris) Sandbeck; great-granddaughters: Lexi, Thea and Remi, whom great-grandpa loved so much; son, Greg (Barb) and extended family; sisters, Mary Dyer and Liz Cyr; sister-in-law, Marilyn (Percy) Hill; several nieces, nephews and cousins that he was very fond of; and God Child, Linda Nicholls (John Sulek).  
If you think you are beaten, you are;
If you think you dare not, you don't.
If you'd like to win, but think you can't,
It's almost a cinch you won't.
If you think you'll lose, you're lost,
For out in the world we find.
Success begins with a fellow's will,
It's all in a state of mind.
If you think you're outclassed, you are,
You've got to be sure of yourself before
You can win a prize.
Life's battles don't always go
To the stronger or faster man;
But sooner or later the man who wins
Is the one who thinks he can.
Anonymous
A Graveside Service will be held on Saturday, April 23rd, 2022 at 11:00 a.m. in Rosedale Cemetery and a time of fellowship will follow in the Harvey Room at Moose Jaw Funeral Home.  In lieu of flowers, donations in John's name may be made to the Alzheimer Association of Saskatchewan, 301 – 2550 – 12th Ave, Regina, SK S4P 3X1, Canadian Mental Health Association, 2702 12th Ave, Regina, SK S4T 1J2, or to any relief fund supporting the Ukraine.  Arrangements are entrusted to Moose Jaw Funeral Home, 268 Mulberry Lane.  Andrew Pratt Funeral Director 306-693-4550