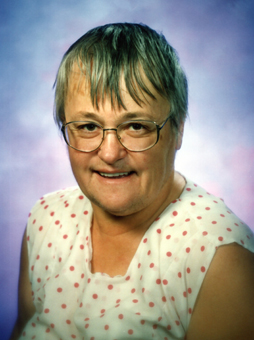 Clara Elaine Duffey passed away peacefully on Friday, December 24th, 2021 in the care of a wonderful group of healthcare professionals at Providence Place in Moose Jaw, SK where she had resided since January, 2005.
Clara was born on August 14th, 1936 as the youngest to Mary and Delbert Duffey of Caron, Saskatchewan.  She lived and worked on the family dairy and mixed farm until they moved to Moose Jaw in 1986.
She was predeceased by her parents, Delbert and Mary Duffey; older sisters, Leona Gervais and Barbara Duffey; older brother, Cam Duffey; and sister-in-law, Joan Duffey.  Clara is survived by her nieces, Sandra (Roger) Blyth and Amber Gervais; nephew, Kelly (Marcy) Duffey; brother-in-law, Paul Gervais; as well as several great-nieces and nephews.
Since her early teens Clara enjoyed singing in the Church and with various choirs in Moose Jaw, and would regularly burst into song whenever the mood or occasion arose or just because she could.  There were numerous times that those at Providence Place had the enjoyment of her impromptu concerts.
Even though Clara and Barbara had the title of "Aunt" they were never referred to with that title.  Their family, along with many others that they crossed paths with over the years, knew them affectionately as "the Girls".  Before Barbara passed in 1984, "the Girls" travelled for 25 years, mostly on bus trips, throughout Canada, the United States, United Kingdom and the British Isles, seeing many sites and places of interest.  They would also go to as many sports events as they could every year, such as baseball (hard and soft ball) and hockey.  In 1966, they even went on the train to Empire Stadium in Vancouver, BC to cheer on the Saskatchewan Roughriders to the team's first Grey Cup win.
Travelling was still part of Clara's life even after Barbara passed.  She and Grandma went on a bus trip to Alaska in 1988 and she went on several trips with her sister Leona's family to Nashville, Memphis, Los Angeles, Las Vegas and Orlando, to name just a few of the places visited.
Since January 2005 Clara resided in the St. Vincent Wing at Providence Place.  Her family is extremely appreciative of the care provided by the staff, as we knew that she was always kept active and involved with as many activities as possible.
A Graveside Service will be held on Friday, April 8th, 2022 at 1:00 p.m. in Rosedale Cemetery.  In lieu of flowers, donations in Clara's name may be made to Providence Place Foundation Inc, 100 – 2nd Ave NE, Moose Jaw, SK S6H 1B8.  Arrangements are entrusted to Moose Jaw Funeral Home, 268 Mulberry Lane.  Gary McDowell, Funeral Director 306-693-4550