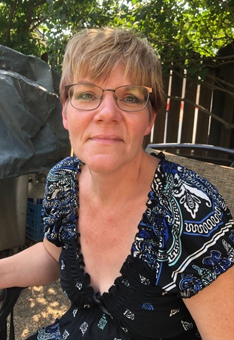 It is with great sadness that the family of Cindy Lou Drover announces her passing on Thursday, November 4th, 2021 at the age of 55, after a hard fought battle with cancer. 
Cindy was born on October 28, 1966 to Vivian and Claude Bourdages in Moose Jaw, where she spent her entire life. In 1987 she met the love of her life Tom, whom she married the following year. Cindy spent her life doing what made her the happiest; taking care of her family, playing bingo and running her daycare. Cindy was known for her huge heart and her never ending and unconditional willingness to help all who needed it. 
She was predeceased by her parents and son Tommy. She is survived by her husband Tom and 5 children; Joel, Jarrod, Christine, Susan (Curtis), Clint (Kristin), her 6 grandchildren; Carter, Davyn, Mikayla, Corbin, Josh, Dustin, and her 6 siblings; Debby (Norbert), Wes (Kandy), Francis (Carrie), Bev (Mark), Kelly (Cindy), and Terry (Lori), as well as many nieces and nephews who adored their Aunty Ninny. The little ones couldn't pronounce the word Cindy so she was called Aunty Ninny. 
The Funeral Service will be held on Wednesday, November 10, 2021 at 2:00 p.m. in Moose Jaw Funeral Home.  At the service, the family encourages you to honor Cindy by wearing purple, her favorite color. Those unable to attend are invited to view the service virtually by going to www.moosejawfuneralhome.com/webcast/. In lieu of flowers, donations in Cindy's name may be made to the Moose Jaw Health Foundation 55 Diefenbaker Drive, Moose Jaw, SK S6J 0C2. Arrangements are entrusted to Moose Jaw Funeral Home, 268 Mulberry Lane.  Michelle Ellis, Funeral Director 306-693-4550