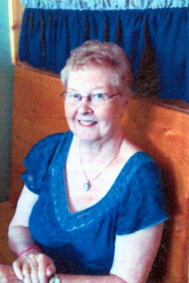 It is with great sadness that on Saturday, March 20th, 2021 our mom, grandmother, and great-grandmother, Margaret Drew peacefully passed away.  She was born on July 25th, 1939 to George and Mary Sawer in Winnipeg, MB.  Margaret lived in Winnipeg where she met and married Neil Drew on August 29th, 1958.
She was predeceased by her parents, George and Mary Sawer; husband, Neil; sister, Muriel; son-in-law, Danny; grandson, Michael; and in-laws, Neil and Joyce Drew.  Margaret is survived by her daughters: Roberta Wolfe, Lynn Rogers and Maureen Drew; grandchildren: Brett (Mel) Litvenenko, Russell Wolfe, Douglas Wolfe, Jennifer (Todd) Roggenkamp, Neil (Stephanie) Rogers, Lauralee Rogers, Chris (Mel) Drew, Mat Smith, and Daniel Smith; great-grandchildren: Jordan, Carson, Marrin, Paige and Reese, Brooklyn, Karysa, Gwen and Ronnie, Dru, Ayla and Rhea, Emmet and Clarabelle, Kaden and Addison, Aria and Bella; nieces, Georgia (Roland and Peter) and Martha (Jake and Ben); brothers-in-law, Jim (Debra) Drew and Ken (Lori) Drew; sisters-in-law, Judy Palmer and Dianne Alsop and their children Kevin and Lauren (Mae, Hayden), Angie (Mackenzie, Audrey), Matthew and Nicole (Jackson, Griffin, Barrett), Drew (Jessica) and Ryan (Erin).
Margaret worked at Sears in Moose Jaw and Saskatoon, and made many lifelong friends during her time there.  She retired in Saskatoon and loved spending time with her children, grandchildren and pets.  She loved gardening, crocheting and most of all, gingerbread cookies.  Margaret was an active member of St. Mary's Parish in Saskatoon and spent time visiting seniors who needed companionship.  She was head captain of Neighbourhood Watch in Saskatoon.
At the time of her passing, Margaret was a resident at Chez Nous Senior Care Home in Moose Jaw.  She made many friends there and was loved by all (staff and residents).  Special thanks go out to staff at Chez Nous for the compassionate care they provided for mom.  
Margaret will be sadly missed but never forgotten.  She touched so many lives during her time with us and has now gone to be with dad once again.  We would also like to send a special thanks to James and the staff at Moose Jaw Funeral Home for their compassionate service during this difficult time.
Due to Covid-19 restrictions, a Funeral Service will be held in Saskatoon at a later date.  Arrangements are entrusted to Moose Jaw Funeral Home, 268 Mulberry Lane.  James Murdock, Funeral Director 306-693-4550