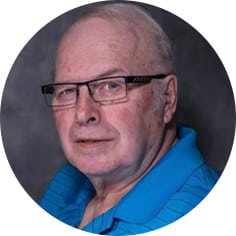 James "Jim" Edward Dreger
James "Jim" Edward Dreger, aged 74 of Moose Jaw, Saskatchewan passed away peacefully on Wednesday, February 5th, 2020 at the Dr. F.H. Wigmore Regional Hospital.  Jim was born December 2nd, 1945 in Moose Jaw to loving parents Daniel and Mary.  Jim enjoyed working at many places including the Moose Jaw Union Hospital, where he met his loving wife Patricia while making potato salad.  Jim knew the moment he met Pat that he would marry her one day, and they have enjoyed 51 years of marriage, celebrated on August 24th, 2020.  Jim worked and made friends at many places including CFB Moose Jaw, Valley View Center, The Moose Jaw Union Hospital, and retired from Safeway in the bakery.  Even more friends were met while enjoying his passion of golf, while playing at the Moose Jaw Lynbrook Golf Course. He was predeceased by his father, Daniel and mother, Mary Ruth.  Jim is survived by his loving wife, Patricia (Mckechnie); daughter, Lisa Chapman (Shawn); son, Derek Dreger (Sheena); grandchildren: Jachin, Anaya, and Ryder; brothers: Dennis (Bev), Dana (Caroline) and Ken (Sheila); sisters, Donna (Ian) and Joanne; as well as many in-laws, nieces and nephews, and his favorite four legged companion Abby.  Jim's family would like to give a special thank you to the caregivers in the Regina General Hospital, Dr. F.H. Wigmore Regional Hospital, Paramedics from Moose Jaw and District EMS, and Moose Jaw Fire Department. Special thank you to Jim's sister Donna and brother Ken for being by Jim's side when his wife, daughter and son were unable.  Jim will be remembered for his giant heart, infectious sense of humor, and trying to ensure everyone around him is having a great day.  
Ephesians 4:31-32 – Get rid of all bitterness, rage and anger… Be kind and compassionate to one another, forgiving each other, just as in Christ God forgave you.
A Celebration of Jim's Life will be held on Monday, February 10th, 2020 from 1:00 to 3:00 p.m. at the Moose Jaw Cultural Center/Mae Wilson Theater, 217 Main St N, Moose Jaw, SK as a come and go tribute.  
Arrangements are entrusted to Moose Jaw Funeral Home, 268 Mulberry Lane.  Andrew Pratt Funeral Director 306-693-4550.