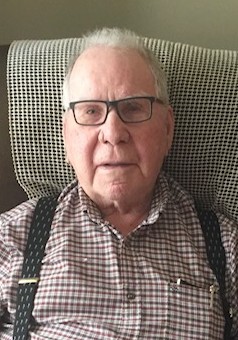 With sadness, love, and profound gratitude, we announce the passing of our beloved father, grandfather, great-grandfather, great-great-grandfather, and friend, Cyril Downton.  Cyril was born on April 24th, 1927 in Mortlach, SK.  On April 20th, 2023 Cyril made the journey to reunite with Florence for a long awaited twirl around the dance floor, in Heaven.  We can hear all their favourite music playing from here.
He was predeceased by his first wife, Ruth Bobier/Downton (1982); his wife most lovingly, Florence Downton (2019); son, Kelvin Downton (1982); daughter, Glenda Downton (1958); daughter-in-law, Judy Downton; son, Edwin Ferguson; brother, Ed Downton (1996); granddaughter, Patty Flahr (2015); brother, Stanley Downton (1971); sister, Marge Sherman (2012); and his parents, Charles Henry Downton (1968) and Jane Nee Savage/Downton (1978).  Cyril was survived by: Stephen (Diane), Randy (Shirlanne), Glenn (Jo-ann), Darrell, Terry (Danie), Carol (Kurt), Audrey, Donna (wife of Edwin), and Bill; as well as 18 grandchildren, 28 great-grandchildren, and 5 great-great-grandchildren.
Cyril was born in Mortlach and was raised on the family farm, in Eastleigh, SK.  He spent his days working on the farm.  He moved back to Mortlach in 1959 and lived in Mortlach to raise his family.  In the winters, Cyril worked at the curling rink and skating rink.  When he retired from farming, he started working for Besant Provincial Park.  He met the love of his life, Florence in Moose Jaw, SK at a singles dance shortly thereafter.  From there, they never stopped dancing.  Together, Cyril and Florence enjoyed many things like Amway, garage sales, antiques, and Meals on Wheels.  They made many friends at the Legion and Eagles, too.  Cyril had almost 96 wonderful years on this earth and spent those years enjoying the people around him.  He loved to love people.  In the later years of his life, Cyril made sure to keep his family and friends close whether it was in person, by phone, on Facebook, and even by video chat.  He never let technology impair his ability to connect with people.
The family wishes to send a special thank you to the staff at Providence Place, Crescent Park Retirement Villa, and Extendicare for their care and compassion shown to Cyril throughout the years.  Additionally, even though he had a number of caring people in his life, Carol and Kurt always went above and beyond for Cyril.  
The Funeral Service will be held on Tuesday, April 25th, 2023 at 2:00 p.m. in Moose Jaw Funeral Home.  Reverend Deacon Arleen Champion will officiate and interment will take place in Sunset Cemetery at a later date.  Those not able to attend may view the service virtually by going to www.moosejawfuneralhome.com/webcast/.  As an expression of sympathy, donations in Cyril's name may be made to the Royal Canadian Legion Branch #59, 268 High St W, Moose Jaw, SK S6H 0C4 or to a charity of one's choice.  Arrangements are entrusted to Moose Jaw Funeral Home, 268 Mulberry Lane.  Michelle Ellis, Funeral Director 306-693-4550