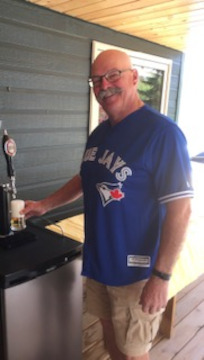 The family of Bruce Dorward is sad to announce his passing on Saturday, November 4th, 2023, in Moose Jaw, SK.  After a final battle with cancer, he passed quietly, peacefully and with dignity, with his family by his side. 
He was predeceased by his parents, David and Kathleen; brother, Ron; father-in-law Duke; and mother-in-law, Winnifred.  Bruce is loving survived by his wife, Carol; sons, Blake (Kristi) and Nathan (Kristi); and grandchildren: Rhian (Drayson), Jordyn, Mac, Theo, Ava and Noah.
Bruce was born May 20th, 1947, in Kindersley SK to David and Kathleen Dorward.  The family moved to Moose Jaw where he attended Central Collegiate before lying about his age to join the Navy and serve his country.  He proudly served on the HMCS Chaudière.  After returning to Moose Jaw, he met Carol, his best friend and love of his life, and they were married August 2nd, 1969.
Bruce was a busy man serving and giving back to his community in many ways – President of the Band City Kennel Club, President of the YW/YMCA, Legion member, and coaching his son's sports teams.  He helped mentor and build many youths' lives with his work in the Navy/Sea Cadet organization for over 20 years.  Bruce also served as Aide-de-Camp to the Lieutenant Governor of Saskatchewan.
After a successful 45-year career, Bruce retired from Mosaic Potash Belle Plaine.  Bruce, with Carol at his side, enjoyed a vibrant retirement living at their home they built in Mistusinne during the summers and wintering for years at Viewpoint in Mesa, AZ.  He was an avid sports fan – Toronto Blue Jays, Toronto Raptors, Boston Bruins, Saskatchewan Roughriders, PGA.  You could often find him on the golf course, fishing or touring the continent with the top down in his mustang.
The family wishes to thank all the staff at the Allen Blair Cancer Center, Dr F.H. Wigmore Regional Hospital, Palliative Care Moose Jaw, Dr. Mark Brown, and Dr. Yolanda Marx for the care, compassion and support they provided over the last 2 years.
There are good ships, there are wood ships, there are ships that sail the sea.  But the best ships are friendships, and may they always be.
The Funeral Service will be held on Tuesday, November 14th, 2023 at 1:30 p.m. in Moose Jaw Funeral Home with Pastor Marvin Seaborg officiating.  Those not able to attend may view the service virtually by going to www.moosejawfuneralhome.com/webcast/.  In lieu of flowers, donations in Bruce's name may be made to the Moose Jaw Health Foundation, 55 Diefenbaker Drive, Moose Jaw, SK S6J 0C2.  Arrangements are entrusted to Moose Jaw Funeral Home, 268 Mulberry Lane.  Cara Ashworth Funeral Director 306-693-4550