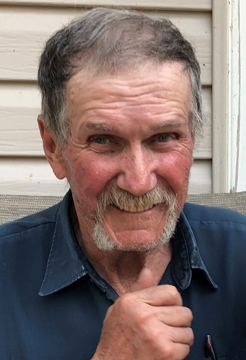 Bill (William) Doney, born October 29th, 1951, passed away peacefully on Saturday, October 15th, 2022 – two weeks before his 71st birthday.  Bill is survived by his wife, Donna; sons, Jason (Stephanie) and Kurtis (Kareen); and daughter, Amber (Chad).  Bill was blessed with six grandchildren whom he loved dearly: Eric, Ryan, Kye, Koen, Averi, and Caylyn.  He was a great Grandpa and 'Papa' whose memory will live on through his grandchildren.  Bill is also survived by his three sisters: Lynn Sorsdahl, Marlene (Lee) Ganyo, and Marilyn (Harold) Litzenberger; brother-in-law, Larry (Faye) Saigeon; as well as numerous nephews and nieces.  
Bill grew up on the family farm near Boharm, SK where he continued to live and farm.  He got his love of animals from his father and shared his love of horses and dogs with his children and grandchildren.  Bill was able to finish his last harvest this fall and continued to ride his quad, checking cows until his last days.  We know that he'll continue to be with us on the farm which is where he loved to be, riding his favourite stallion 'Ticky', and enjoying good health from above. 
In recent years Bill and Donna got to enjoy their 'winter retirement' enjoying the sunny days of Mesa, playing bocce ball, riding his golf cart, and visiting with their Arizona friends during happy hour.
As per Bill's wishes, there will be no Funeral Service and support can be provided through ongoing conversations in the coming weeks and months.  We invite you to hug your loved ones and appreciate every moment.  In lieu of flowers, donations in Bill's name may be made to The Moose Jaw Humane Society, Box 1658 Station Main, Moose Jaw, SK, S6H 7K7.  Arrangements are entrusted to Moose Jaw Funeral Home, 268 Mulberry Lane.  Cara Ashworth – Intern Funeral Director 306-693-4550