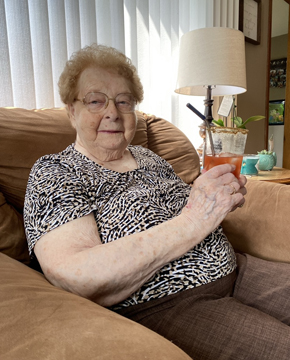 Mrs. Shirley Ann Donaldson, age 91 years of Moose Jaw, SK, passed away peacefully on Friday, October 7th, 2022.  Shirley was born August 7th, 1931, a daughter of the late Cady and Gladys Sells.
She was predeceased by her husband of 50 years, Don Donaldson; and her siblings: Louise, Bill and Lucille.  Shirley is survived by her son, Gordon Donaldson and his children Kayla and Brent; daughter, Cindy (Chad) Jesso and their children, Amy (Rob) and Amanda (Kelly); daughter, Cathy Gehlen and her children Kaitlyn (Tanner) and Kelsey; as well as many other family members and friends who will sadly miss her.
Shirley was very devoted to her faith and enjoyed spending her time playing cards and watching TV.  She was also an avid animal lover.
A Private Family Service will be held at a later date.  As an expression of sympathy, donations in Shirley's name may be made to The Moose Jaw Humane Society, Box 1658 Station Main, Moose Jaw, SK S6H 7K7.  Arrangements are entrusted to Moose Jaw Funeral Home, 268 Mulberry Lane.  Cara Ashworth – Intern Funeral Director 306-693-4550