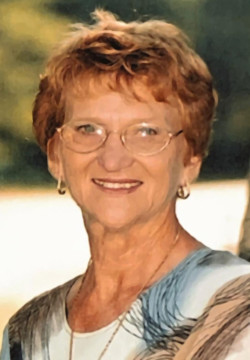 Lorraine Anne Dombowsky (née: Debert), loving wife and mother, passed away peacefully on Thursday, November 9th, 2023 at Coteau Range Manor in Avonlea, SK, loved by her family and caregivers, at the age of 88 years.
Lorraine, an only child, was born in Hearne, SK on June 6th, 1935  and attended Goodland School.  She married her lifelong partner of 67 years, Norbert, in 1953 and they were blessed with six children.  She began her 30-year teaching career in 1969, creating a legacy of self-reliance through her students. 
Lorraine leaves a heritage to her family that includes having Faith in the Lord, making time for family and community, and church.  She had a strong work ethic, and a passion for life and all its blessings.  Lorraine is lovingly remembered and admired for her laughter, empathy, principles, and determination.  She took tremendous pride when her children, grandchildren, great-grandchildren, and students succeeded when they thought they couldn't.  Lorraine, always the competitor, loved games, was a softball coach, and an active member of the Avonlea Curling Club and Long Creek Golf Club. 
In 1995 Lorraine and Norbert moved off the farm to their new home in Avonlea, SK, right across the street from the school, where she would watch her beloved grandchildren and students.  Their new home was the nucleus for family and friends with the door always open and ready for gatherings, cards, coffee, and lots of laughter.  Lorraine loved exploring the world and was excited as the children and grandchildren spread their wings and moved away from home, in anticipation of new places to visit.  She loved her family and friends with a sense of compassion and insightfulness. 
She has been lovingly welcomed to his Lord's Home by her husband, Norbert; youngest son, Eddy; parents, Joe and Anne Debert; and many cousins and friends.  Lorraine is survived by her children: Randy (Anne), JoAnn (Gerry), Mark (Denise), Gary (Helen), and Donna (Tony); grandchildren: Jill (Renton), Karilee (Hal), Danielle, Michael (Lori), Kendal (Age), James (Noelle), Jeremy, Mac, Emma, Lauren (Marc), Sarah (Craig), Jared (Sarafina), and David (Madison); 12 great-grandchildren; sisters-in-law: Leone, Lenora, and Linda; as well as many cherished nieces and nephews. 
Thank you to the staff at Coteau Range Manor in Avonlea for the wonderful care and love given to Lorraine. 
A Prayer Service will be held on Friday, November 17th, 2023 at 7:00 p.m.  The Funeral Mass will be held on Saturday, November 18th, 2023 at 11:00 a.m. followed by a luncheon at the Avonlea Community Hall.  Both the Prayers and Funeral Mass will occur at St. Joseph's Parish, Claybank, SK with Father J.R. Prince presiding. 
In lieu of flowers, donations in Lorraine's name may be made to the Coteau Range Manor.  Please make cheques payable to Village of Avonlea, Box 209, Avonlea, SK S0H 0C0 to receive tax receipt.  Arrangements are entrusted to Moose Jaw Funeral Home, 268 Mulberry Lane.  Gary McDowell, Funeral Director 306-693-4550