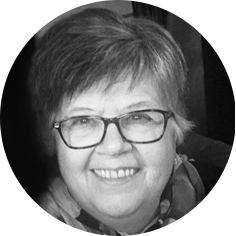 Caroll Shirley Doig, aged 76 years of Moose Jaw, SK, passed away peacefully Friday, January 15th, 2021 with her family by her side.  Caroll was born on July 16th, 1944.  The second of three sisters, she grew up on the family farm which she loved and spoke of often.  She proudly attended Coyote Run School, and later graduated from A.E. Peacock Collegiate.  One of Caroll's early professions was having the distinction of being Moose Jaw's first milkmaid, delivering milk to Moose Jaw and surrounding areas.  She later went on to a career in bartending, working in multiple local establishments and finishing her career at the Royal Canadian Legion Branch #59.
Caroll had a wide variety of interests and hobbies that often revolved around spending time with family and friends.  She loved travelling, playing cards, gardening, and enjoying a good book which she often referred to as her friends.
She will be remembered by her family as a person with a great sense of humour; someone who loved you enough to tell you the truths you needed to hear, which often the rest of the world was not brave enough to say.  She was a great mentor to her kids, grandkids, and friends.  She gave everyone in her life a special place in her heart, and made everyone who crossed her path feel like they were loved and cared for.  Caroll was open to sharing her life experiences in order to help others learn and grow.  She was a woman of great strength, independence and perseverance, and will be greatly missed.  
She has now reunited with her parents, Jake and Carrie; her husband, Bubs; and her grand-dog, Charlie.  Caroll will be lovingly remembered by her sisters, Marilyn (Murray) Ager and Linda (Elton) Leugner; her children: Todd (Vera) Ortman, Jolene (Brad) Chamberlain, and Lisa (Tim) Lynchuk; grandchildren: Hailey, Jessie, Carter, Jacob, Josh, Max, Owen, and Sohpie; many nieces and nephews; and lifelong friend, Diane Mason.
A Private Family Gathering will take place at a later date.  Arrangements are entrusted to Moose Jaw Funeral Home, 268 Mulberry Lane.  James Murdock, Funeral Director 306-693-4550