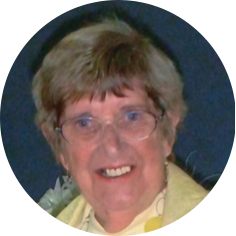 Cecile Marie Dixon (née: Dulude), surrounded by love, passed away on Friday, November 20th, 2020 reuniting with her husband Bill on the day of their 64th wedding anniversary.  Her family finds solace in their beloved Mother's eternal reconciliation with the love of her life Bill, after 28 years apart.
Cecile was born to Alphonse and Therese in Ottawa, ON December 8th, 1928, the second oldest of four sisters and two brothers.  Growing up Cec loved sports and was athletic as a figure skater, excelled at tennis, swimming and hockey – had mother's name not appeared in the newspaper for recording a shutout, her father would have never known she was playing.
With an independent and adventurous spirit she bravely set out for Saskatchewan in 1948.  Cecile met William Dixon, whom she married in 1956, and went on to raise 4 boys together.  As a mother she was always taking care of her boys and many of their friends.  Cec also lent her hand to the family business, Campbell Dixon Clothiers, sewing many suits, as well as military and Snowbird uniforms, of which she was most proud.
Throughout her life Mother was an avid golfer, bridge player and bowler, winning provincial team championships in golf and bowling.  She was incredibly talented artistically and taught oil painting for many years. Her paintings and works of art are treasured gifts to family.  As a proud French Canadian, Cecile was the interpreter for the French women's curling team during the Women's World championships in Moose Jaw in the 70's.  Mother had a wonderful sense of humor, enjoyed a good laugh and spoke her mind.  Meaningful times for Cec were spent as afternoon outings to Buffalo Pound Lake and Nicole Flats with Bill; trips to see her grandchildren or their visits to her. She enjoyed her 19 great-grandchildren whose photos were proudly displayed at her place. 
Cecile was predeceased by her loving husband, William (Bill) Dixon in February 1993; sisters: Adele St-Cyr, Pierrette Bohay, and Marie McMartin; and great-granddaughter, Jae Marie.  She is survived by her sister, Louise Despatie; brothers, Jean-Pierre Dulude and Michel Dulude; her 4 loving sons and stepdaughter and families: 
Jim & Marissa and their 7 children: Jeremy & Jolene (Zander, Ryder), Leanne (Brayden, Ethne), Jessica & Matt (Bodie, Baker, Birdie), Rebecca & Brian (Jaxon, Bronson), Cody & Alysha (Jaxton, Huxley, Phoenix), Caitlyn & Nate, Emma
Mitch & Christina and their four children: Ernst & Anastasia (Tavairik, Aletheia), Isaac & Elizabeth (Esme, Isla and Heidi), Ocean & Katie, Emma
Doug & Jackie and their children: Nikki, Daniel, Amanda, Ashley & Mark (Nova) and Adam & Jenna (Paisley)
Dave & Donna and their three children: Mitchell, Samual, Katrina
Stepdaughter: Lee De Rosenrol & Terry
A special thanks to the staff at Pioneers Lodge and Chez Nous for the wonderful care mother received during her time at each. Also to Dr. Geyer for the wonderful care he gave to mother over the years.  A Private Family Service will be held to honour Cecile.  As an expression of sympathy, donations in Cecile's name may be made to The Moose Jaw Humane Society, Box 1658 Station Main, Moose Jaw, SK S6H 7K7, which she was fond of supporting.  Arrangements are entrusted to Moose Jaw Funeral Home, 268 Mulberry Lane.  Todd Sjoberg, Funeral Director 306-693-4550