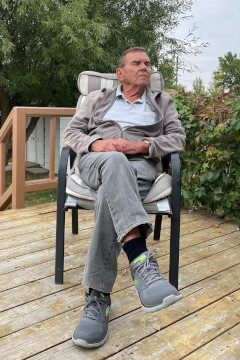 Charles Alexander Dietrich
Charles Alexander Dietrich aged 83 years of Central Butte, SK, peacefully passed away on Tuesday, November 7th, 2023.  Charles was a strong, kind, loving, and supportive husband, father and friend. 
Charles fell in love with flying at the age of 17 and flew as a helicopter pilot all over the world.  He moved back home to farm and met his wife Betty in 1972, and they went on to have three daughters.  Charles put family first, always, and was a dedicated husband and father.  His wisdom and guidance were the foundation of his family.
Charles loved being busy and learning new things; he was always mastering a new hobby or project.  He loved pool, golfing, tinkering in his shop, and fishing.  He was always fixing and repairing things and finding ways to improve things.  People loved listening to Charles share stories of his adventures and enjoyed his quiet sense of humor. 
He was predeceased by his parents, Ruth and Alexander.  Charles leaves behind his wife, Betty; and three children: Amber (Dave), Patricia (Gary)- grandsons Luke, Dalton, and Brody, and Leah (Trevor) – grandsons Garrett and Tanner; as well as many other family and friends.  At Charles request, there will be no Funeral Service.  As an expression of sympathy, donations in Charles' name may be made to the Huntington Society of Canada, 20 Erb St W, Suite 801, Waterloo, ON N2L 1T2.  Arrangements are entrusted to Moose Jaw Funeral Home, 268 Mulberry Lane.  Cara Ashworth Funeral Director 306-693-4550