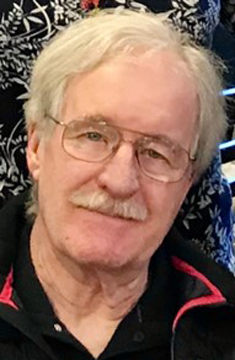 With broken hearts, the family wish to announce that Richard James Dickinson (or Dick as many knew him) passed away on Thursday, November 10th, 2022 after a short battle with cancer.  
Richard was born on July 21st, 1949 to Jim and Edna Dickinson in Moose Jaw, SK and had a wonderful childhood playing with the neighbourhood kids and many friends he made over the years.  In his teen years he learned to play the guitar and played in bands which he really loved.  That was the start of his lifelong obsession with the Beatles ☺.  He had a very adventurous spirit and after meeting and becoming friends with Peter from Italy, they went to Italy on Richard's 19th birthday.  Richard then travelled for a year in Europe and even worked for awhile at a hotel in London.  He saw Italy, France, England, Spain, Morocco, Switzerland and many more places.  That trip changed how he thought of the world and made him very curious about other cultures and people.
Richard started R.J. Painting in 1977 and grew it to be a very successful business.  The guys who worked with him became lifelong friends.
Richard's greatest joy came from "his girls".  He married Eileen (Ewen) in 1977 and together they enjoyed many good times at the cabin at the lake and many trips skiing, two more trips to Europe, New York City, California and many more places.  Hawaii was a particular favourite in more recent years.  Leah was born in 1972 and Kendra in 1982 and he was a very doting and devoted dad.  As the years went by, grandchildren were added to the mix, and he enjoyed hearing about their activities and watching them grow.  
In 1994, Richard suffered a devastating accident which left him disabled for the rest of his life, but his spirit, humour and positive attitude never wavered, and he adapted without any complaints and made the best of things.  He was an inspiration to many.
Left to somehow try to fill an incredible void in their lives are Richard's wife of 45 years, Eileen; daughter, Leah (Greg) and grandchildren Sierra and Rio from Whistler, BC; daughter, Kendra (James) and grandchildren Jayden and Kasen of Moose Jaw; mother, Edna Dickinson of Victoria, BC; brother, Don (Kathleen); sister, Carolyn; sister-in-law and brother-in-law, Glenda and Ron Hagan; as well as nieces, nephews and many other relatives and friends from all over.
At Richard's request there will be no formal funeral service.  A get together social to celebrate Richard's life will be held on Sunday, December 4th, 2022 from 2:00 to 4:00 p.m. in the banquet room at the Grant Hall Hotel in Moose Jaw, SK.  As an expression of sympathy, donations in Richard's name may be made to The Moose Jaw Humane Society, Box 1658 Station Main, Moose Jaw, SK S6H 7K7.  Arrangements are entrusted to Moose Jaw Funeral Home, 268 Mulberry Lane.  Michelle Ellis, Funeral Director 306-693-4550