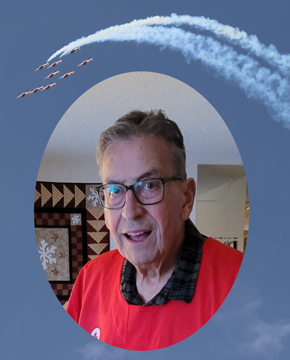 JAMES (JIM) LLOYD DIAMOND
February 20th, 1945 – September 24th, 2023
With humble acceptance of God's will, we announce the passing of Jim Diamond on Sunday September 24, 2023.
Born in Toronto, ON, Jim grew up in Shannon Park, NS where he excelled in high school athletics.  After grade 12, Jim joined the Royal Canadian Air Force and worked as an Instrument Electrical Technician.  In his 30 plus years with the RCAF he worked on various planes, including the Snowbirds in Moose Jaw, SK.  After his retirement, he returned to PEI where he pastored for 13 years.
Jim was happily married to Sharon for 38 years and had 2 boys, Trevor and Joel, whom he was very proud of.  During those years they lived in many places – Comox and Victoria BC, Red Deer, AB, and Georgetown, PEI just to name a few.
After Sharon's passing, Jim moved to Moose Jaw and married Carol Ludke in 2008.  Soon after moving, Jim got his school bus driver's license and enjoyed almost 10 years driving his precious cargo.  Jim and Carol traveled to many places including Cuba, Jamaica, Hawaii, Belize, Alaska, Arizona, Disney World, Victoria, BC and Jim's favorite place, PEI.
Some of his favorite times were his weekly coffee outings with friends, any meal (especially seafood), baking, and snacks.  Jim loved sports, sports, and more sports.  While in Moose Jaw Special Care home, he enjoyed his weekly visit from a special friend who always brought a chocolate milkshake.
Jim was very dedicated to church activities and functions; his favorite was babysitting the young ones at Mom's Times Out every Tuesday morning.  He was a devoted man to his Lord and Savior.  Through his struggles with Parkinson's, he remained faithful to the very end.  Even though his mind was failing, he never forgot to pray.
He was predeceased by his wife, Sharon Diamond; parents, Isabelle and Albert Diamond; sisters, Joy McDougall and Margaret Rice; and father-in-law, Erland Cousins.  Jim is survived by his loving and caring wife, Carol Diamond; stepchildren: Janet (Sean) Mellor – grandchildren Marissa (Johnathan), Karina (Ethan), Linnea, and Elora; Jason (Brigitte) Ludke – granddaughter Sophie; sons, Trevor (Michelle) Diamond – grandchildren Adara, Connor, Bella, and Korban; and Joel (Jeannette) Diamond; sister, Jacqueline Diamond; brother, Richard Diamond; mother-in-law, Shirley Cousins; as well as many brothers-in-law and sisters-in-law.
We would like to thank the staff at Moose Jaw Special Care Home for Jim's care over the last 6 months.
Jim's interment will be held in PEI and a private family memorial will be held at a later date.  In lieu of flowers, donations in Jim's name may be made to Parkinson's Canada, 316-4211 Yonge St, Toronto, ON M2P 2A9 or to Hillcrest Church Capital Fund, 1550 Main St N, Moose Jaw, SK S6J 1L3.
We will miss you, forever in our hearts, until we meet again.
Carol is missing her best friend.
Arrangements are entrusted to Moose Jaw Funeral Home, 268 Mulberry Lane.  Andrew Pratt, Funeral Director 306-693-4550