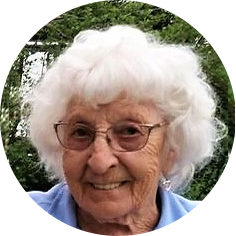 Katherine (Kay) "Baba" DESSERT
August 2nd, 1925 – October 11th, 2020 
It is with deepest sadness that the Dessert family inform of the death of Kay "Baba" Dessert on Sunday, October 11th, 2020 as she was encircled with the love of her family while being held in the arms of her daughter in prayer, guiding her into her new life with the Lord in Heaven. 
Kay was predeceased by her loving husband, Joseph Armand Dessert in 1996, as well as her great-granddaughter, Angelica Dessert in 2013.  Also greeting her in Heaven are her beloved parents, eight siblings and many dearly missed friends. 
Left to heal their broken hearts are her loving children, grandkids and great-grandchildren: 
Joe & Arlene Dessert
     Jason & Darci Dessert (Jaxyn Rayner)
     Garrett & Erin Dessert (Madelyn & Odin)
     Selene & Brian Colquhoun (Lochlann)
Gerald & Michelle Dessert
     Delisca & Dean Seifert (Elian, Kalaya & Kenna)
     Tristin & Angela Dessert (Luca & Sydney)
     Saralea Dessert
     Braeden Dessert
Greg & Doreen Dessert
     Jamie & Jayme Dessert (Kolby & Kason)
     Darren Dessert
     Katherine "Katie" Dessert & Michael Szeles
Donna Dessert 
Kay will be sadly missed by her long time best friend Marion Hoover with whom she shared over 50 years of friendship.
Katherine Mary Nykyforuk was born on August 2nd, 1925 on the family farm near Meacham, SK.  She lived her early years in the Trojan area, then later went to work in Saskatoon, SK.  She met Joe Dessert after being introduced by her sister.  He became the love of her life after a trip to Nipawin, SK to visit family when they had to request Joe to drive them as he was the only person they knew who owned a vehicle at that time.  They fell in love and got married on April 23rd, 1955.  They started their family shortly after, then began moving to various small towns throughout central Saskatchewan, as Joe was a CN Station agent.  They finally settled in Moose Jaw, SK in 1969, making this their home for the rest of her life. 
She became a friend to many in the community through her association with the church, and the Lynbrook Bowling league that she activity participated in until her late 80's, as well as the Prosvita Ukrainian Culture Society and Multi-Cultural Motif.  
Kay's kindness shone through in many ways, from her beautiful laughter, her always open kitchen and her ability to make anyone smile from ear to ear.  She would often stop and talk to strangers and babies anywhere she would go and always told them to call her Baba.
The family would like to extend deep appreciation to those who provided loving care to Kay during the last three months and in her final days, including Mariam and the care staff at Marcie's Personal Care Home, and care staff of Pioneer Lodge Memory Lane. 
Due to the current health situation, a Private Family Service will be held.  In memory of Kay, and in lieu of flowers, donations may be made to the St. Joseph's Church Renovation Fund, 1064 3rd Ave NW, Moose Jaw SK S6H 3T9.  Arrangements are entrusted to Moose Jaw Funeral Home, 268 Mulberry Lane.  Gary McDowell, Funeral Director 306-693-4550